I've personally done a few voiceover jobs for other companies and thoroughly enjoyed the work. It's not easy, though. Annunciation, inflection, tone… all require practice. Not to mention having a great studio to record in for outstanding voice quality. There are additional challenges with getting voiceover work done, too:
Talent – It's not always easy to find the right personality to record your voiceover work. Often, we selected a few different people and then presented each to the client for acceptance.
Expensive – great talent can be costly, especially if you require multiple edits and re-recording.
Licensing – many contracts include clauses that limit how you can utilize the voiceover – sometimes by medium and the total number of listens. We've personally seen talent pursue companies legally when they distributed the voiceover on other sites or added it to other recordings.
Turnaround – some of the platforms we've used to find talent returned the recordings within hours… but sometimes it took weeks to finish the project.
This is the perfect opportunity to enlist artificial intelligence (AI). With a library of source audio built from humans, AI can be used to automate the voice-to-text output. Murf has a library of more than 120 human-parity AI voices across 20 languages, and is able to synthesize speech for advertising, audiobooks, explainer videos, e-learning, podcasts, videos, or other professional presentations.
Murf AI Voice Generator
Murf is not just a text-to-speech tool. It provides a complete toolkit for making voice-over videos. You can combine images, videos, music, adjust timing, and so on. The Murf Studio enables users to select the voice, insert and control their text, synchronize it to their video, and export the file wherever needed. Users can adjust the pitch, speed, and emphasis of the voice… and interject and make edits as needed.
It's an impressive platform. Here's an e-commerce example produced by Murf.
Building Intros and Outros With Murf
I'll be relaunching our podcast soon and needed to record a new podcast intro, a sponsor spot, and a podcast outro. Within an hour I was able to record them, tweak the timing, and add background music. Here's a screenshot of my work in the Murf Studio: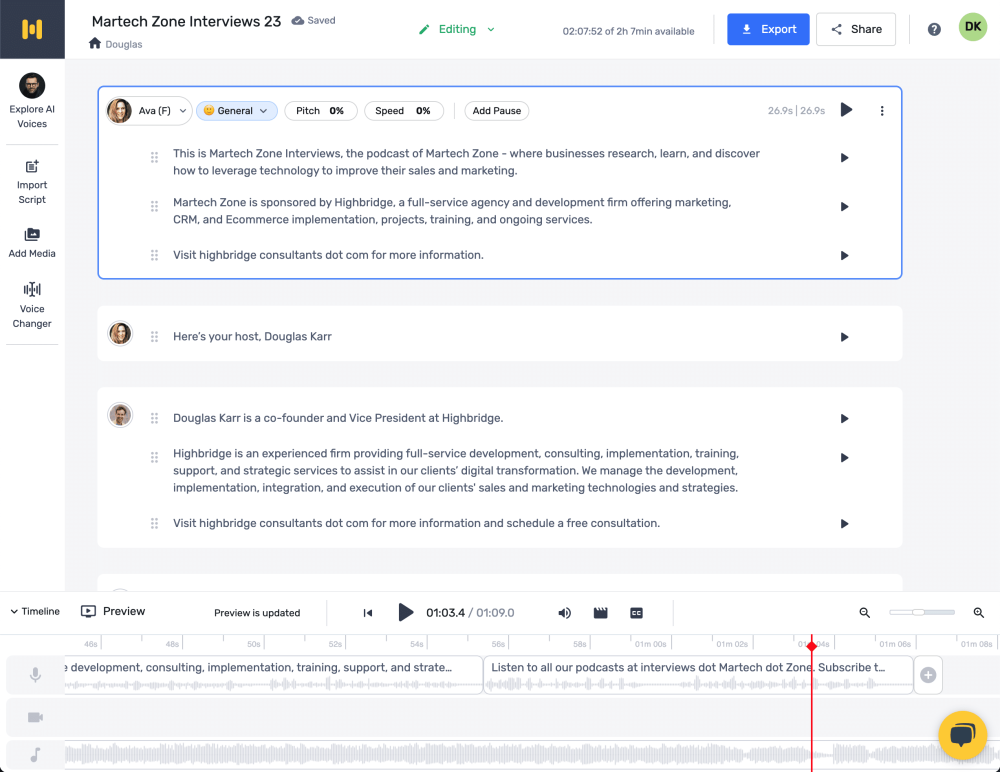 Adding the music background is a great feature but I couldn't slice it, add volume ramps for opening and closing, or simply move it where I wanted, so that was a bit frustrating. I also noticed when I modified the emphasis, pitch, or speed, the voice didn't sound as natural. However, the results are still quite amazing:
Podcast Sponsor and Outro
You can sign up for Murf and design your project for free. Downloading your audio does require a monthly or annual subscription (annual offers a nice discount).