Are you looking for nice tweets to post on Twitter?
Many of us struggle to craft good tweets that grow our:
Twitter followers

Engagement

Reach.
It can be hard to determine the BEST tweet for Twitter, especially considering our unique followers.
You're not alone in this struggle!
It can take a while to find your GROOVE on Twitter.
Although Twitter is constantly changing, these tweet types are classic and stand the test of time.
We hope you find these helpful as you grow your Twitter audience!
(Want an UNLIMITED amount of tweet ideas? Sign up for Post Planner FREE today.)
18 Good Tweets to Post NOW (for More Likes & Retweets)
Good tweets:
Build rapport

Highlight your personality

Engage your followers

AREN'T boring
This article will show you 18 good tweet ideas and how to use them on your social media.
These Twitter post ideas are designed to help ENGAGE your followers and make your page more interesting.
We'll cover:
If you're new to Twitter, you can experiment with these classic tweets AND the endless variations you can create with them.
1. Quote tweets
One type of tweet that has stood the test of time is famous quotes.
There are 2 ways to post famous quotes:
Post the quote as the text of your tweet

Create an image with the quote in it
By creating or finding an image and tweeting it WITH a popular hashtag from your niche, you have an opportunity to draw people's attention to your post.
If you're using Post Planner, it's super easy since the app helps you both find AND create appealing visuals.
For example, you can use Post Planner's content streams to find pre-made quote tweets.
Then just share those images with your followers.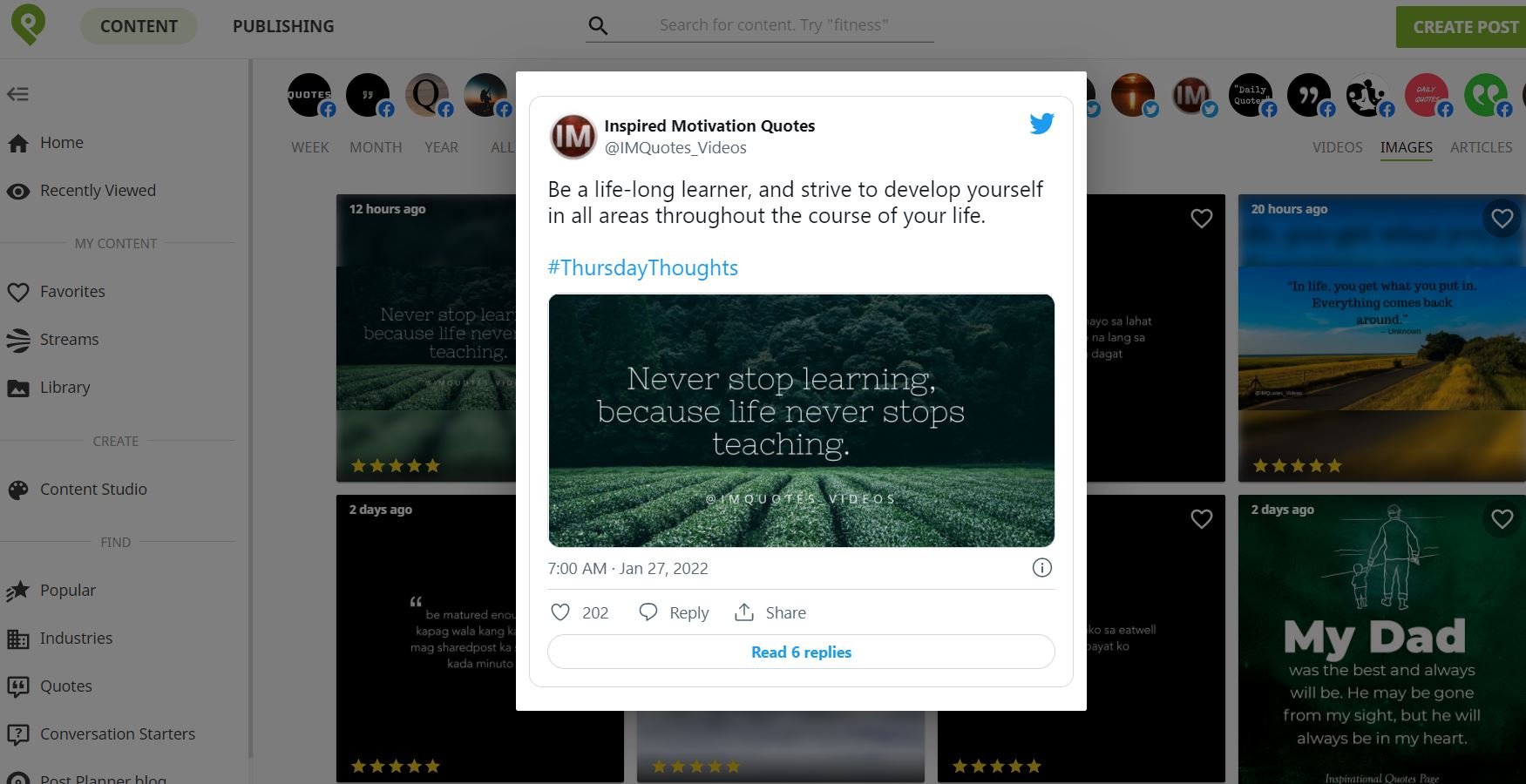 If you want to design your quote tweet, just create one with Post Planner's Content Studio.
You can easily customize the text and background image to make a high-quality quote post.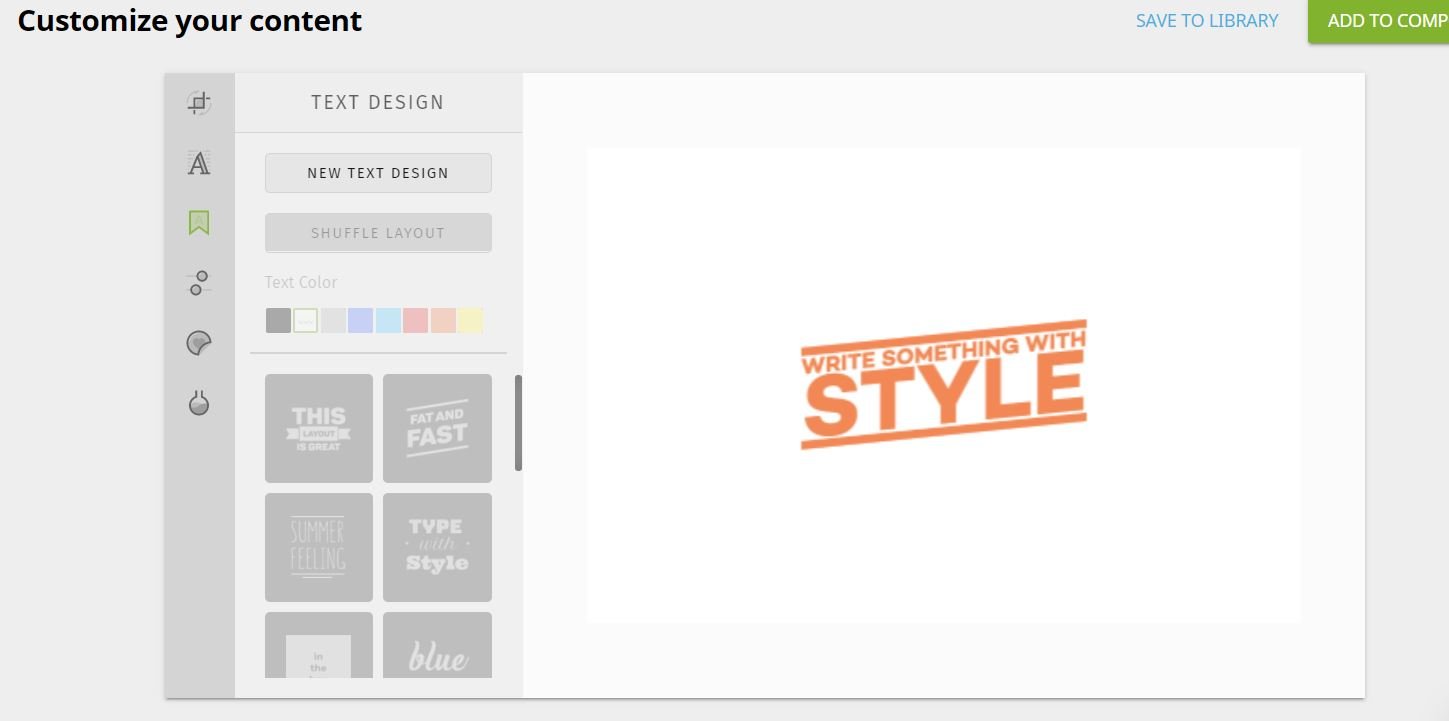 Remember to keep your quote short enough to fit easily into 140 characters (or type only a portion of the quote in the body of the tweet and use ellipses).
Quote tweets do not bring the same engagement when you abbreviate words in the body of the tweet.
2. Multi-line tweets
Tweets don't always have to be trying to squeeze as much as possible into the character limit.
Many of us have seen tweets with abbreviations, no grammar, and no organization.
Those tweets are hard to read and understand.
So many people don't linger on them long enough to read them.
Multi-line tweets go to the opposite extreme.
They use white space in tweets to help communicate their message.
To create a multi-line tweet, just use the tab key to skip lines for:
Dramatic effect

Comedic timing

Organization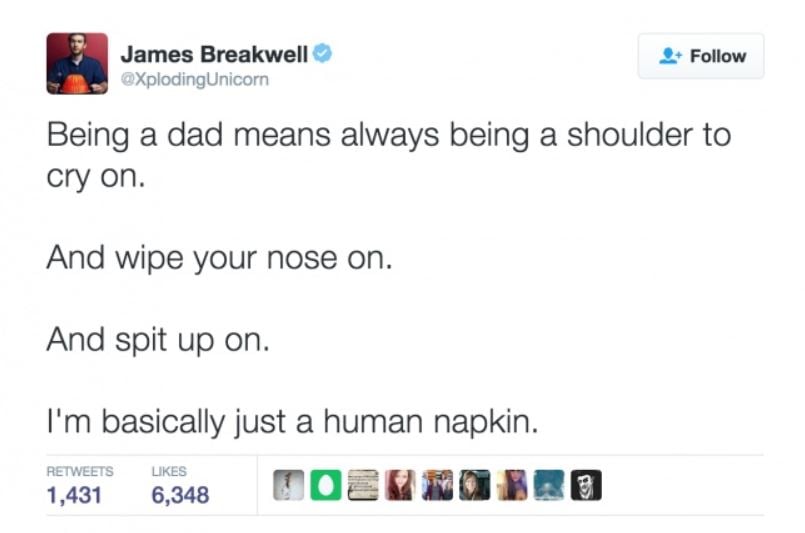 You'd be surprised how much creativity you can squeeze into a multi-line tweet.
Not every tweet should take advantage of multiple lines.
However, occasionally using multi-line tweets is bound to attract readers that don't respond well to traditional tweets.
3. Current event tweets
Current event tweets work well for a couple of reasons:
They show your audience you stay up-to-date about what's going on (which can increase your influence).

They allow you to take advantage of the popular hashtags for current events.
Be sure to research the hashtags BEFORE you include them in your tweets!
Use current trends in your niche and on Twitter as a whole — to determine the best hashtags to use.
You should pay special attention to ALL current events in your niche.
For example, you should know who won the Boston Marathon if you have a running shoe company.
Another type of current event tweet which is excellent for increasing engagement is the tweet that celebrates the special days on the calendar each month.
For example, #NationalCoffeeDay is a hit on Twitter and Instagram every year.
Take advantage of events like that to help yourself: gain followers and become more relatable.
4. Gif tweets
Gifs on Twitter are so much fun, and they almost always lead to engagement.
People LOVE to see funny gifs that relate to them and their interests.
More good news?
They're easy to find or make!
Many people think you have to be a high-tech wizard to create your gifs.
Guess what?
You don't.
I use makeagif.com to make mine — and they always turn out fabulous and are also easy to make.
An even easier way to use gifs is to find pre-made ones.
Post Planner can quickly find relevant gifs based on keyword searches. Just search for a keyword relevant to your followers, then filter the results for gifs.

5. Question tweets
Questions are an effective way to spark engagement in your Twitter stream!
People will often respond to tweets that ask for their thoughts or opinions on something.
These work incredibly well when the topic of the question is something your audience is interested in (your niche).
To squeeze the most effectiveness and engagement out of a question tweet, be sure you're there to engage with your followers when they answer.
In other words, make sure that you don't simply post a question, then leave it alone.
Instead, you should be responding to people who answer you to help them get to know you.
When people feel like they're part of a community, they're more likely to:
Continue engaging with your posts

Share your content with their followers

Make purchases from you
With Post Planner, coming up with intriguing questions is quick and easy.
Just click on "Conversation Starters," then click on "Questions."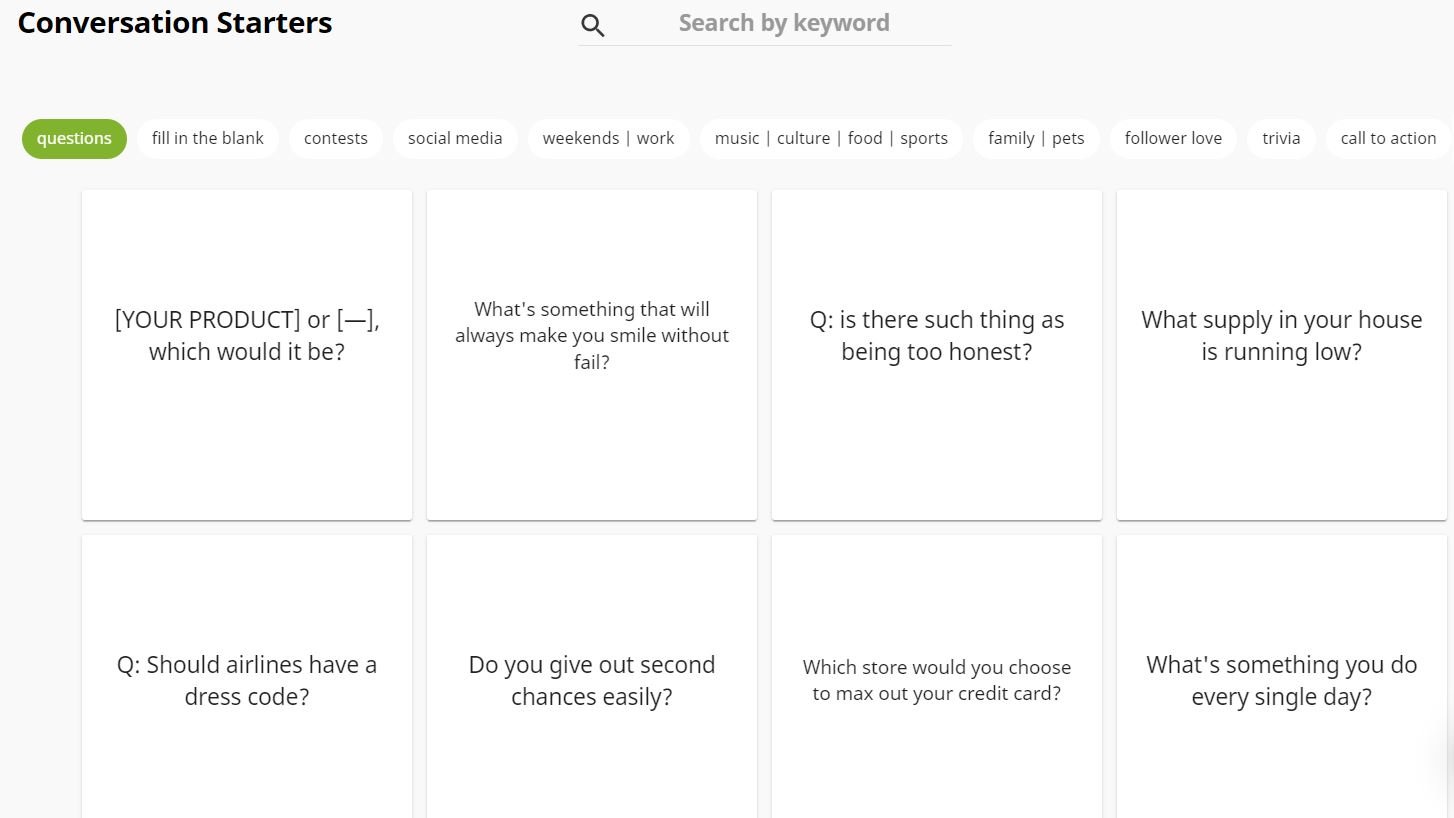 There are thousands of questions in there for you to choose from!
AND you can easily add them to your Twitter content strategy.
6. Self-promotion tweets (but not the shameless kind)
There are some people and brands that only self-promote on social media.
They're constantly talking about:
How excellent their products are,

Why their competitors suck
Why people should buy from them.
In my opinion, that's one of the fastest ways to torpedo your online reputation.
However, that doesn't mean it's a bad idea to do a bit of self-promotion here and there on Twitter.
For example, did your business:
Launch a new product?

Win an award?

Do something noteworthy that your followers might be interested in?
If so, post about it!
Don't be afraid to toot your own horn every now and then.
Just make sure you balance it out with honesty and sincerity about yourself and your company.
Be honest, be transparent, and admit when you're wrong.
Give back to the social media community!
However, when you accomplish something you're proud of, SHOW IT OFF!
No "#humblebrag" required.
7. Your blog posts
Speaking of self-promotion…
There is NOTHING wrong with promoting your blog posts (or other content from your website) on Twitter!
Twitter is an effective communication tool for you and your blog readers.
Which means you should use it to bring MORE readers to your blog!
There are just 2 things to keep in mind when tweeting your posts:
1. Make sure your blog posts are high-quality (with a fantastic headline). If not, you won't be putting your best foot forward for your business.
2. Don't feel like you have to link EVERY blog post on Twitter. If you write something that you think is particularly helpful, that's a great time to share it with your Twitter followers.
ALWAYS ensure that you're posting high-quality, VALUABLE material with eye-catching visual content.
There is a ton of excellent content promoted on Twitter.
However, lukewarm content is considered noise and will be completely rejected by your followers.
8. Other people's blog posts
Next, remember the golden rule on Twitter:
If you want other people to share your content — share content from others.
Kind of like in "real life," Twitter is a community of people that give and take.
If you only ever post your content, people will notice that you aren't participating with other users.
Show people that you are a valuable part of that community!
If you come across a post you like, share it with your followers and let them know who originally posted it! Share content that is:
Interesting

Funny

Valuable

Entertaining
It's important to share the love on Twitter.
It's a Twitter good practice to promote others and give credit in tweets!
9. Joke tweets
Most jokes are bad, right?
(Maybe it's just that most of MY jokes are bad.)
If you can learn how to be humorous on Twitter, you'll differentiate yourself from the sea of boring tweets.
It's hard to translate offline humor into online humor.
But there are ways to make it easier.
If you're like me (and you have no joke-creating skills), you can quickly use Post Planner to find funny things to tweet.
Click on "Popular," then scroll down to the "Funny" section.
You'll be able to quickly find tons of funny things to share with your followers.

It just so happens that many of the funny photos also happen to be text images, which means you can just type the joke as a tweet if you don't want to share the photo.
Jokes bring engagement since people love to comment on funny pics and quotes.
10. Tweets about Twitter
Tweets about Twitter are some of the most successful, effective tweets you'll see in your stream.
Why?
Whether they're individuals or businesses, people on Twitter want to LEARN how to use social media to get more followers and attention.
If you can share insights with them about how to do that, it's practically guaranteed that your tweet will get great engagement.
Even if you're not a Twitter guru, finding fresh content about Twitter is easy on Post Planner.
There are 2 great places to look for content about Twitter:
Conversation starters

Content streams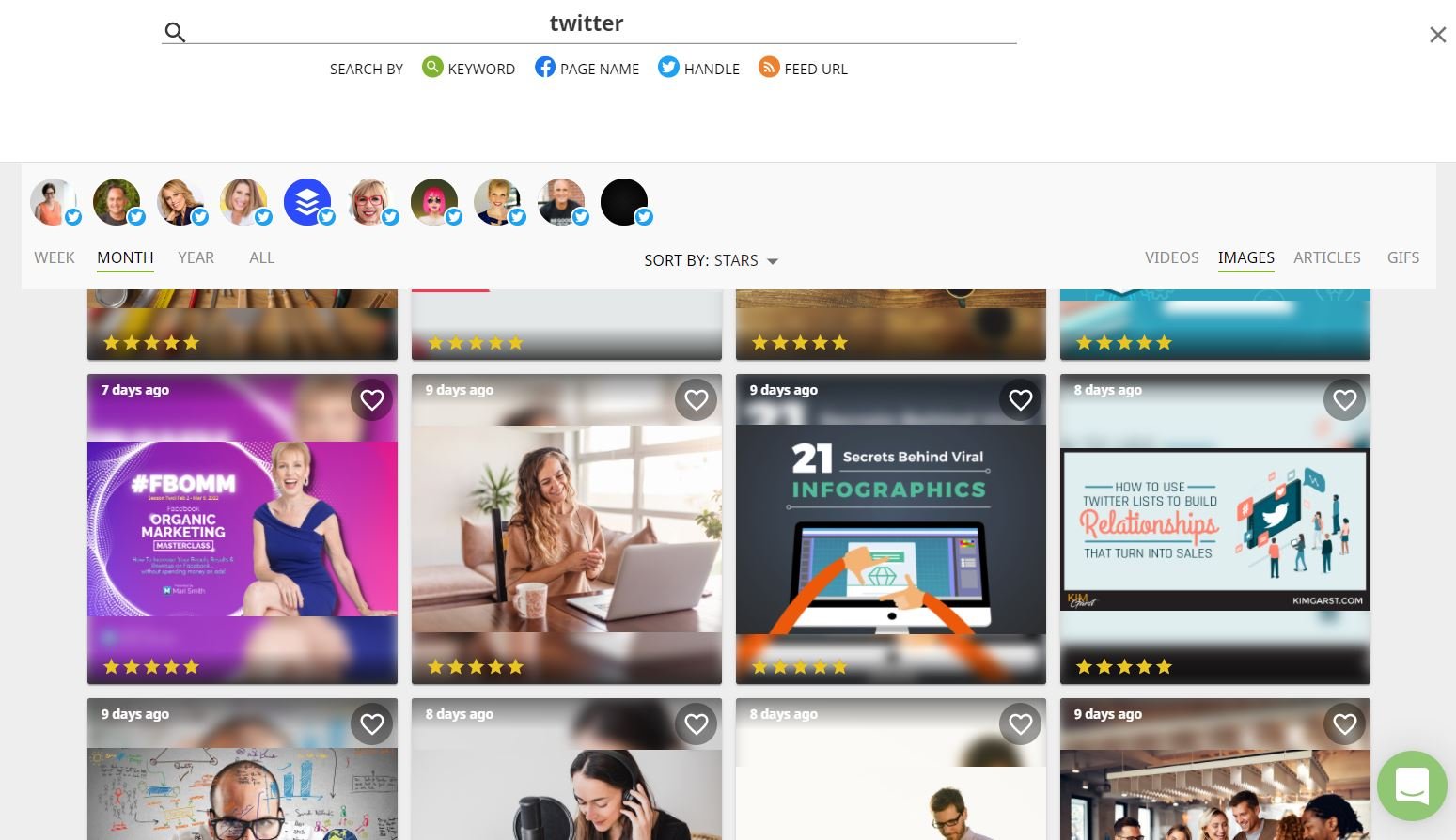 Just use the keyword "Twitter" to find conversation starters and content streams FULL of exciting content about Twitter.
Then, share it with your followers and watch the engagement roll in!
11. Interesting trivia tweets
Everyone loves trivia!
Trivia is:
Interesting

Eye-catching

Universally appealing
Trivia shouldn't form the backbone of your Twitter strategy.
But sharing a random trivia fact once a day or once a week can bring more attention to your profile.
Just follow any one of the dozens of popular trivia Twitter accounts to discover facts that will twist your brain.
If you're using Post Planner, you'll have no shortage of trivia to tweets.
Just click on "Conversation Starters," then click on "Trivia."
Then share some interesting facts with your followers!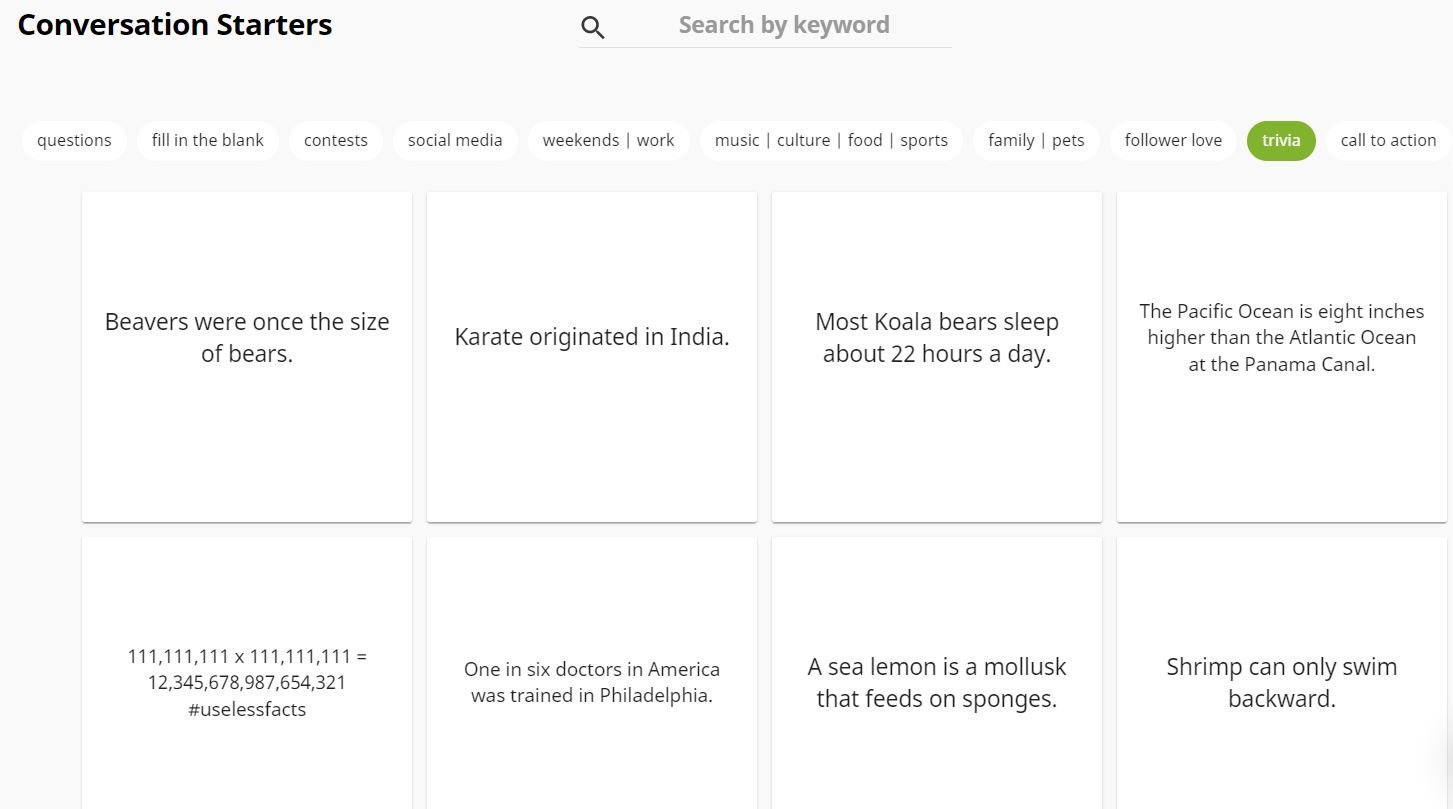 Did you know slugs have 4 noses?
I didn't.
12. High-quality photo tweets
There is NO question that tweets with high-quality images do well.
High-quality images are attractive, and they grab people's attention so they stop scrolling.
Take advantage of that!
When you share an image, make it stunning.
In other words, make it STAND OUT! Find beautiful pictures that you can share and relate them to your content.
If you're skilled at taking pictures, take pictures of things that other people overlook.
Once again, if you're using Post Planner, finding gorgeous photos to tweet is easy!
Go to the Popular tab, then scroll down to the "Beautiful" section.
You'll quickly be able to find thousands of high-quality, beautiful pictures that you can share with your followers.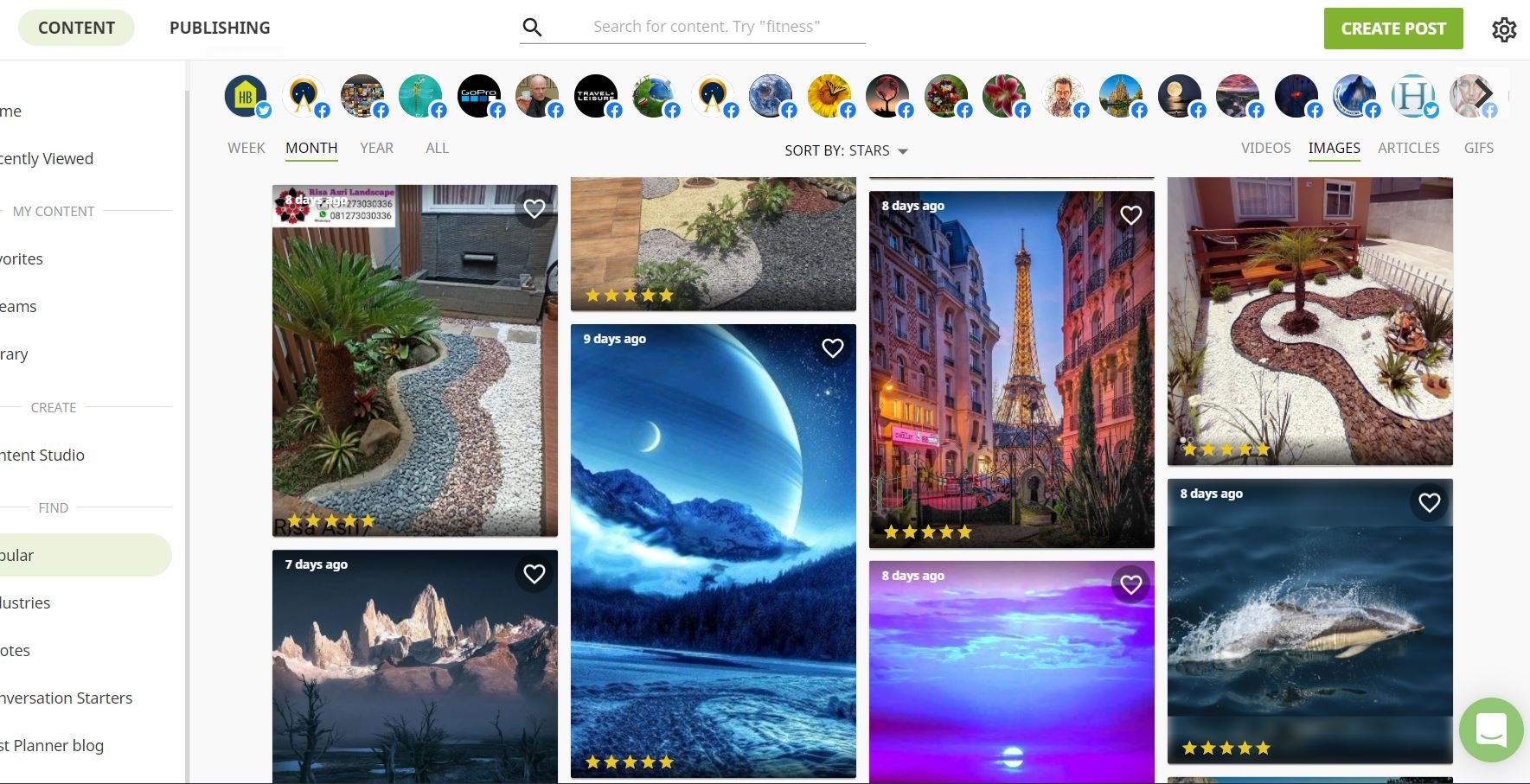 You can even combine these photos with your quote tweets and overlay the quotes on the images by using Post Planner's Content Studio.
13. Classic selfie tweets
You didn't think we'd forget about the classic selfie, did you?
That's right:
Selfies aren't just for Instagram!
If you want to capture the most engagement out of your selfies, don't tweet them often.
The more selfies you tweet, the less engagement you'll get for each one.
Plus, nobody wants to see your face on their Twitter feed every day.
Why do we recommend posting selfies every so often?
If you can help your followers feel a personal connection to you, they'll be more invested in the content that you post.
Selfies help your followers feel like they're getting to know you, so taking advantage of that can give your Twitter a quick boost!
Combine your selfies with some exciting information about what your business is up to.
Your followers will FEEL like they're getting an insider's look into your business!
14. Personal tweets
Speaking about letting your followers get to know you…
It's a GOOD idea to let some of your tweets relate more to YOU personally than to your business.
In other words, don't be afraid to post:
Pictures of what you have going on in your life

Thoughts

Funny things your kids said
Again, these personal tweets shouldn't form the backbone of your content strategy, but they have a place in your repertoire.
Use them to help your followers get to know you in a more personal way.
If you're looking for visual content, we recommend looking through Post Planner's popular page for photos that might relate to whatever your tweet was about.

15. Response tweets
Let's say that you posted a killer tweet, and you get several responses from your follower.
What should you do?
You should RESPOND to them!
Almost nothing will help your followers feel more connected to you than actually getting a response from you on Twitter.
There are 2 ways to use response tweets on Twitter:
Respond to people that shared your tweet or responded to it in a thread

Respond to other people's tweets by starting a thread
Both of these are necessary, and you should regularly be engaging with your followers AND with the people you follow.
The more you contribute to the Twitter community in these ways, the MORE you'll see your follower base growing.
16. Niche tweets
What niche is your business in?
Whether it's in marketing or underwater basket weaving, tweets about your niche should form a large part of your content.
For example, your tweets can be about:
News in your niche

Funny pictures that people in your niche will understand

Thoughts about current trends in your niche

Anything else that people in your niche will appreciate
The absolute EASIEST way to find content relevant to your niche is by finding a pre-made content stream on Post Planner.
Just search for your niche on the search bar and identify some content streams that will constantly supply you with great content for niche tweets.

17. Infographic tweets
People love to learn.
People love pictures.
Why not combine the two and share some awesome infographics with your followers on Twitter?
Infographics are an essential part of a visual content strategy because they combine two important social media elements:
Eye-catching visuals

Helpful information that provides VALUE to the viewer
Scan your content streams on Post Planner for infographics, or make your own in Post Planner's Content Studio with data that you find online.
18. Meme tweets
Last but not least, we can't forget about MEMES.
Memes are among the best Twitter post ideas because they're almost universally liked.
However, you need to ensure that you don't become a meme page.
Instead, just post memes relevant to your page's content AND that your followers will find funny.
To use Post Planner to find memes in your niche, just search for content streams and filter the results for photos.
You'll be able to quickly scan your content streams for memes and add them to your next tweet.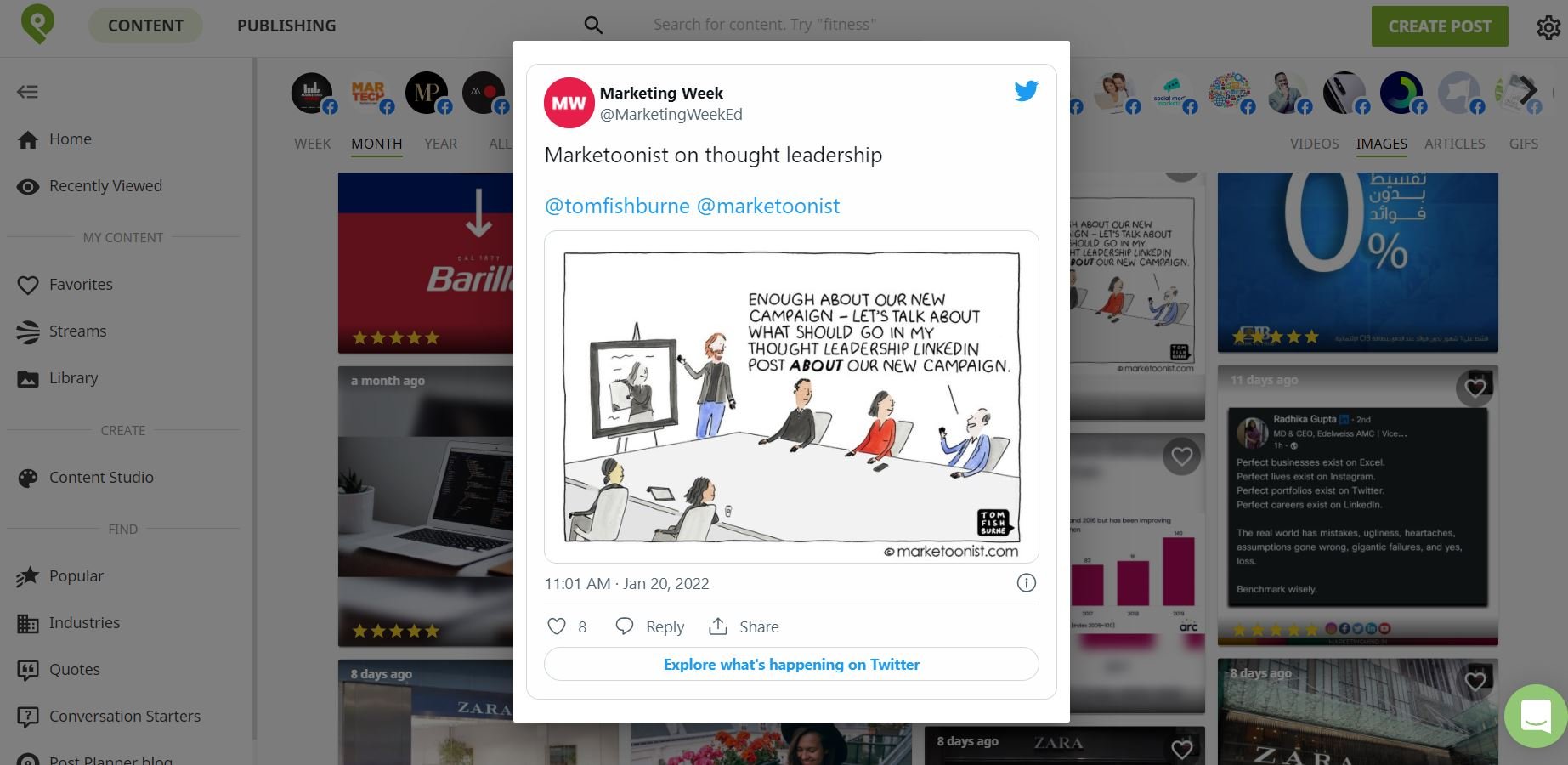 What makes a tweet popular?
It's easy to tweet 10-15 times a day, but it's much harder to consistently write tweets that people like.
By this point, many of you'll be asking what makes a tweet popular.
What makes the difference between tweets that encourage engagement and those that fail?
There are 2 BIG keys to making popular tweets:
If you can consistently check off these two boxes with your tweets, you'll see more and more of your tweets becoming popular.

Relevant
What does your audience enjoy?
What do they hate?
What type of content do they prefer?
These are things you should KNOW about your audience!
One of the best ways to figure these things out about your audience is to follow the same niche influencers.
Those influencers are paid to know exactly what's popular in their niche.
So you can use them to target your audience's interests better.
Once you've figured out what types of content resonate with your audience — simply start posting that type of content.
Keeping EVERY SINGLE post relevant to your audience will ensure that they consistently engage with your content.
Rule of thumb #1: Ask yourself, "Is this content relevant to my audience?" before posting ANYTHING!
Helpful
Have you ever stumbled across a page that's full of dull, unhelpful content?
Maybe it's content that EVERYONE knows about or ancient content.
Either way, you don't learn anything from those pages, so you don't follow them.
In short:
DON'T be one of those pages.
Make sure everything you post is helpful to your audience in some way.
There's more than one way to be beneficial:
Entertainment

Fun

Education

Insight
In other words, not everything has to teach your followers something…
But every post should provide them with some sort of VALUE.
Rule of thumb #2: Before posting something, ask yourself, "Will this provide my followers with value?"
How to use Post Planner to improve your Twitter game
Now that you have a head full of great, creative tweets, let's see how Post Planner can take your Twitter game to the next level.
We've talked about using Post Planner to find different types of content for your Twitter ideas.
Now let's go through some specific examples of how to use Post Planner to AUTOMATE your Twitter and fill it with GOOD tweets.
Create a schedule
The first step is to let Post Planner know when you want to send out your tweets.
To do this, click on the "Publishing" tab, then click on "Queue Plans."
You'll then be able to select:
Days

Times

Type of content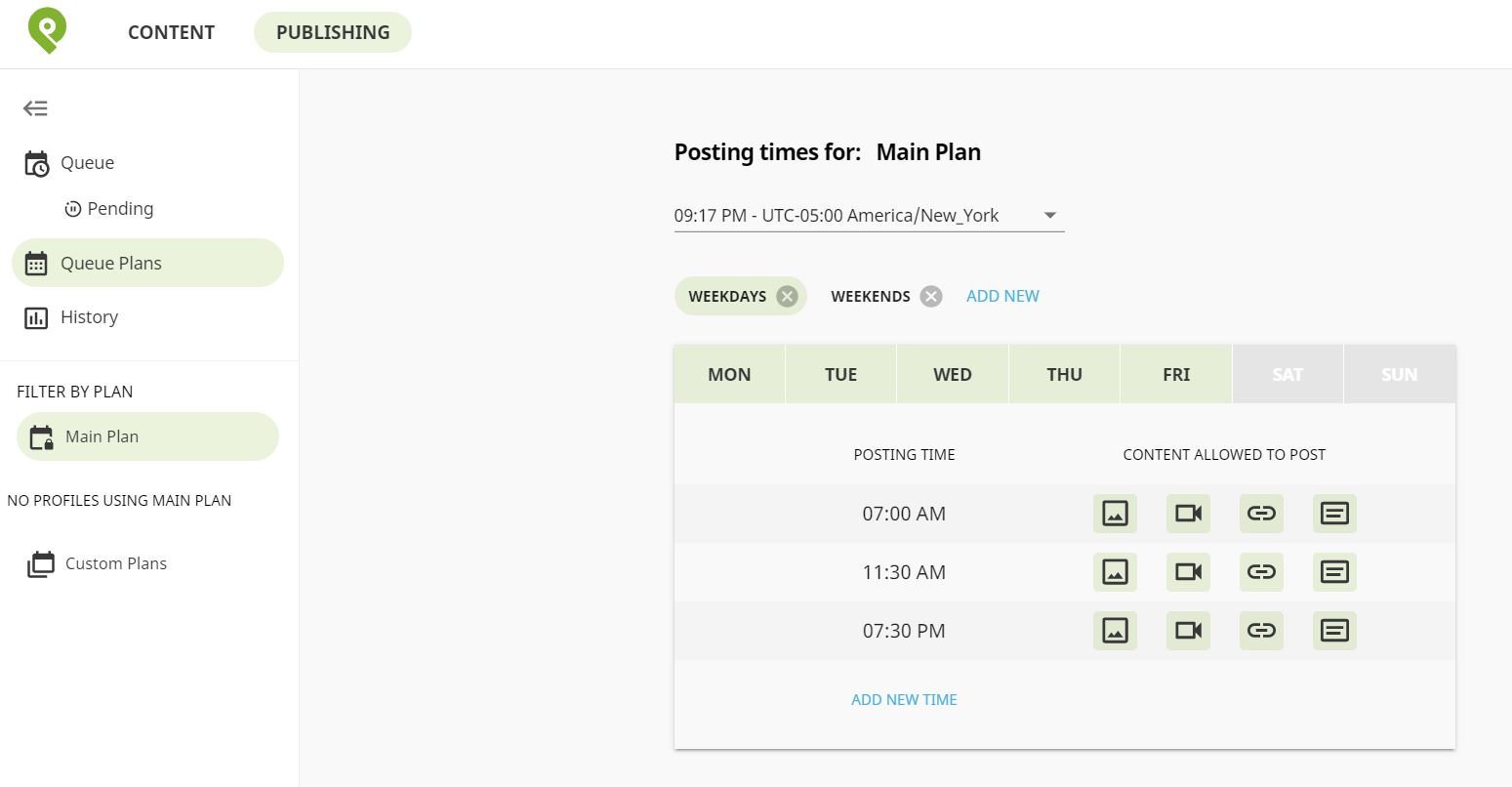 Depending on what you select, Post Planner will automatically create a schedule that only posts content that fits your specifications.
For example, let's say you want to post a picture every day at 3:00 PM.
Post Planner will automatically sort through the content you find (which we'll talk about next) to ensure that pictures get posted every day at the correct time.
Find content
Next, it's time to fill up the schedule you just made with nice tweets to post on Twitter (automatically!).
Head over to the "Content" tab and search for some of your keywords in the search bar.
Post Planner will automatically find pre-made content streams that are FULL of content that'll be both relevant and helpful to your followers.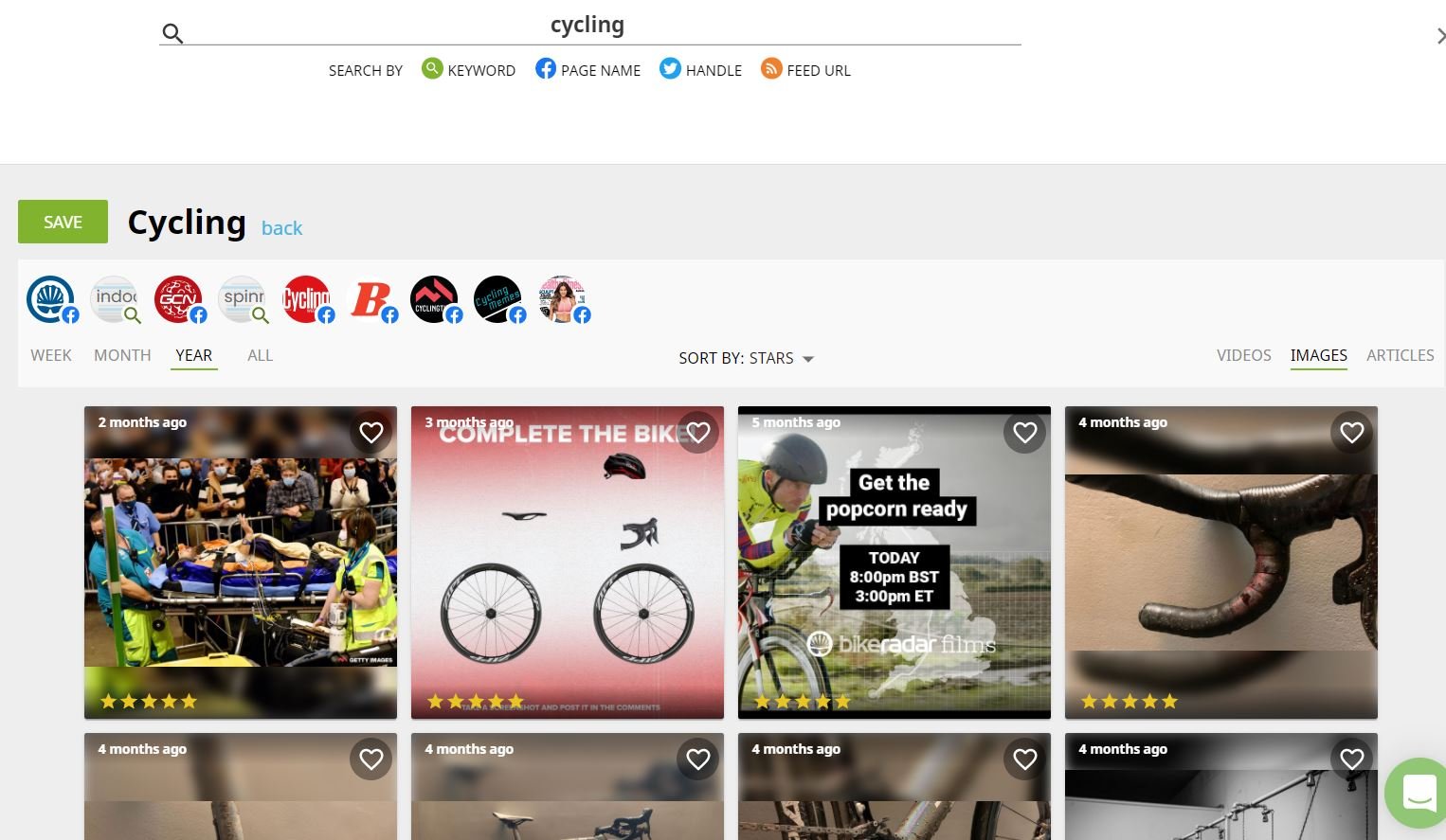 Post Planner also has several tabs full of Twitter ideas that are broadly applicable:
Popular

Industries

Quotes

Conversation starters
Make sure you mix in content from each of these tabs to create a diverse and exciting Twitter page!
Fill up your posting schedule
Finally, it's time to add some of that great content to your posting schedule for Post Planner to automatically post to your Twitter.
Whenever you find a piece of content you like, just hover over it, then click "Create Post."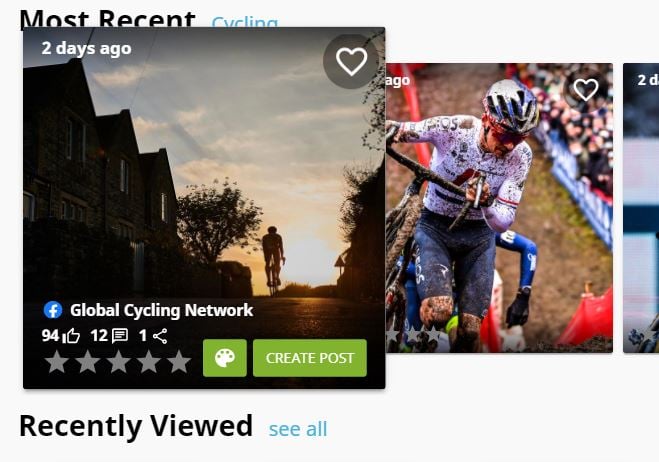 Fill out your caption, then click "Add to Queue."
Post Planner does the rest for you! It will ensure it gets tweeted according to the specifications you set in step 1.
To see your posting schedule all in one place, go back to the publishing tab, then click on "Queue." Then, switch to the monthly or weekly calendar view to see your posting schedule at a glance!

Final thoughts
These 18 Twitter ideas are sure to spice up your Twitter content and encourage your followers to engage with you.
The most important thing to remember on Twitter is to provide value and PARTICIPATE in your online community!
The more you participate and contribute, the more you'll see your followers engaging with you online.
While you're working on your Twitter content, we highly recommend signing up for Post Planner's free trial to see how much it can help you find great content!
Let us know some of your best Twitter ideas in the comment below!
Happy tweeting.