I'm sure you've heard the saying "the early bird catches the worm". This saying is never more true than when talking about your holiday email marketing, especially for the Christmas, Hanukkah, Kwanzaa shopping season.
According to a recent consumer survey, 50% of people expect to begin holiday shopping before November.
And once they start, consumers really open up their wallets. Last season alone saw record sales of $936 billion.
And with people willing to spend, creators and businesses (both big and small) are trying to get a piece.
So if you were thinking of getting those holiday emails out in mid November, you could miss out on weeks of easy sales.
To stand out with your audience you need to have a strategy in place because more emails are sent during the holiday shopping season, than any other time of year. So how can you make sure your emails are the ones to stand out?
We've got you covered with some tips to help you prepare and send sales-driven holiday emails. We'll walk you through a step-by-step holiday email marketing strategy to help you capitalize on the increased holiday spending.
Prep
You can't just wake up one morning and say "today feels like a good day to email my audience." You've got to plan out the who, what, why and when of your holiday emails.
And that all starts with steps one.
Step 1: Create your holiday email marketing calendar
Keeping track of all the holidays — Thanksgiving, Black Friday, Cyber Monday, Christmas, Hanukkah, and the New Year — can quickly become overwhelming. 
Organize the mayhem with a holiday email marketing calendar. 
No need to overthink it — you can set up a calendar on a spreadsheet or Canva template like this one:
Or you can download our free email marketing calendar.
A calendar can also help you accommodate for the rest of your team's time, which comes in handy if they're helping with tasks like design, writing, or scheduling the message.
At the same time, make sure you don't overmail your audience. If you start to notice more unsubscribes than usual, consider the frequency of your emails. 
Step 2: Start your holiday email planning early
There's a reason you're seeing toy stores, supermarkets, and other retailers start putting out holiday decorations and flyers before Halloween every year. People get to making wish lists and buying gifts as soon as the first cold snap hits.
Fill in your calendar from now through at least the end of the year. You may be sending a lot of emails this time of year, so planning everything out in advance will help you meet your deadlines and create content your subscribers will love.
Here's a few questions you need to keep in mind when planning your email send schedule:
How frequently will you email?
What will your offer/messaging be?
How will you be sending emails to? You should segment your email list in order to send relevant content to specific audiences.
When will you be sending your emails (days and times)?
Who is responsible for writing and sending the emails? 
The holiday season should be your busiest time of the year. Set yourself up for success by planning and email marketing early.
Select your audience segment
Figure out who you're going to target, what emails you're going to send, and what offers/messaging they're going to receive.
Step 3: Create your audiences
In order to cut through the clutter of crowded inboxes you're going to need to send relevant messages to your audience. Now this is always important but even more so during the holiday season. Your most effective way to do this is by segmenting your audience. 
Here are some of the best ways to segment your list for holiday email marketing:
Interests and preferences: Tailor holiday offers and recommendations to your audience's specific tastes. Do you have data on their interests? If not, don't worry, there's still a way to understand their preferences. Create segments based on the type of links they clicked in your previous emails. Based on their click history, you'll have an idea of their interests.
Purchase History: Segment customers based on their past purchase behavior. You can also identify high-value customers and offer them exclusive deals or premium products.
Demographics: Consider factors like age, gender, location, and income to create segments. Different demographics may respond differently to holiday promotions.
Step 4: Remember your last-minute shoppers
There will always be buyers who wait until the last minute to get their holiday shopping done. We love them just as much as the early birds. Make sure you keep these shoppers in mind when planning your holiday emails.
Think about last minute deals, offering gift cards or certifications, or guaranteed shipping and in-store pickup before the big day, to help make these customers' lives easier. 
The holidays can be stressful enough, so if you can do something that helps ease the stress of last minute shopping, your customers will remember your brand favorably in the future.
Step 5: Check your (email) list and check it twice
Now's a great time to try to re-engage subscribers who have slowly stopped engaging with your email messages over time. If you can't, then it may be time to clean your list. 
This is your chance to have your brand become top of mind before your holiday promotional emails are delivered. Inside AWeber, you can easily search for subscribers that have not engaged with your emails over a period of time.
Then, send a message to invite them to stay on the list. This might include an incentive to stick around, or some extra useful content. 
Here's an example the AWeber team has sent before:
If they still don't engage (open or click), it's in your best interest to unsubscribe these subscribers. Unengaged subscribers can negatively impact your open rates and deliverability, or they may even hit the SPAM button when your content arrives in their inbox.
Offers
Consumers expect and are actively looking for promotions. Make sure you make them feel like a valued customer or someone else will.
Step 6: Offer exclusive holiday promotions
Certainly! Holiday email marketing is a great way to engage with your audience and offer promotions that can boost sales. Here are some promotional ideas you can consider:
Discounts and coupons: Offer exclusive holiday discounts or coupons for your products or services. You can make these time-sensitive to create a sense of urgency.
Free shipping: Provide free shipping for orders placed during the holiday season. This can be a significant incentive for online shoppers.
Buy One, Get One (BOGO): Run a BOGO promotion where customers buy one item and get another at a reduced price or for free.
Flash sales: Create limited-time flash sales with deep discounts on select products. Send email notifications to your subscribers to create excitement.
Early bird specials: Reward early shoppers by offering special discounts or perks for those who make purchases before a certain date.
Exclusive bundles: Bundle related products or services together and offer them at a discounted price during the holidays.
Email-only discounts: Provide special discounts exclusively to your email subscribers as a way to reward their loyalty.
Referral rewards: Encourage customers to refer friends and family by offering rewards or discounts for successful referrals.
Last-minute: Don't forget about those last-minute shoppers.
These are just a few ideas to make your audience feel special and incentive them to order from you.
Don't have a physical product to offer? This is the perfect time to provide discounts on digital gifts like online courses, ebooks, checklists, templates, and more.
Here are some holiday email examples using a few of these exclusive promotional ideas:
Holiday email setup
When crafting your holiday emails, aim for a seasonal feel that resonates with your audience. This approach can make people more inclined to take action and get involved, ultimately boosting engagement and sales.
Step 7: Get festive with your holiday email design
Consider using a holiday email template or including design elements that convey a festive vibe like a holiday email signature or banner.
Bring in holiday or winter-themed colors to add a festive flair that accompanies the email content.
Check out how Code School brought in festive images to their seasonal email.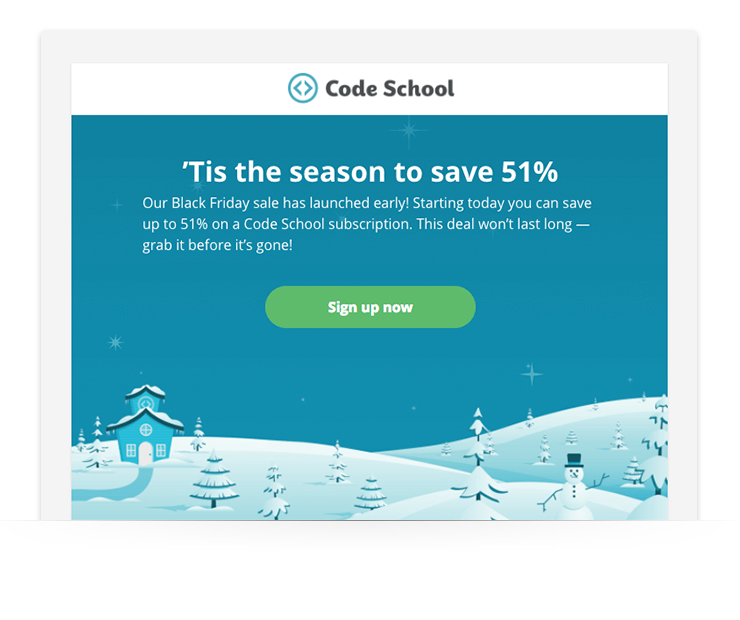 One of the best ways to spice up your holiday emails is with themed images. And you don't need a graphic designer or a custom photo budget to do so. You can use Canva, a free and easy designer tool with thousands of templates, images, and graphics. Plus, you can create email images using Canva directly inside AWeber.
You can also find free stock photos (images that anyone can use creatively) at unsplash.com and pexels.com. 
Once you find the perfect image, think about ways you can customize it to match your brand. 
When looking for images or design inspiration, try brainstorming keywords that make you think of the holiday season, like winter, gift wrap, greenery, hot chocolate, or cookies. This can help you stand out in a sea of red and green while also keeping your holiday email "on brand" and recognizable.
You can also include holiday GIFs in your emails to spice up the seasonal feel.
Holiday email signature or banner graphics
A festive holiday email signature or banner with some cheerful graphics and warm greetings can instantly infuse a sense of holiday joy and goodwill into your email communication.
And you don't need to be a professional designer to create one for your emails. AWeber, for example, already has free graphics you can use.
Or, as mentioned above, you can use Canva which has a preset "email banner" size. Plus they have tons of holiday images you can pull right into your design.
Step 8: Write your holiday email with a sense of urgency
The more you can emphasize the urgency or importance of buying now, the more you can influence subscribers to take action.
So how can you get your audience to feel this way?
By referencing news, dates, times, seasons, or limited time offers.
Check out how Talbots offered a limited time discount to customers who purchased before midnight.
Here's an holiday email example from Portrait Coffee that creates urgency by calling out "last day for holiday shipping" (which you could get free on orders over $40 – great way to increase your average order)
Step 9: Write festive holiday email marketing subject lines
Your subject line is one of the most important parts of getting your holiday emails opened and read. Make sure you mention special offers and details about your holiday promotions in your subject line to catch your subscribers' attention.
Check out these great subject lines that hint at what subscribers will find if they open a holiday email.
60% Off (Yep!) Holiday Must-Haves
Cue the Cozy With 20% Off! Holiday Shopping Starts Here – the countdown is on!
$25 Gift Ideas – Holiday Sale 25% Off Site Wide
Looking for more holiday subject line examples, check out our blog dedicated to the subject (see what I did there): Jumpstart Your Holiday Emails with 200+ Ready-Made Subject Lines.
Test, test, test
How do you know what product or service offer will yield the most sales during seasonal holidays? How do you know what subject line will stand out in an already crowded inbox?
The truth is…you don't. Unless your test.
Step 10: Split test and measure your success
Split testing (or A/B testing) an email to a small percentage of your email list will give you an opportunity to discover what works.
Using AWeber's split testing feature, you can test two offers: 20% off v. 30% off. Then, send two emails. Each one will go to a small, random segment of the list — say, 10%. Then track the success of the emails to see which offer was most popular and drove more sales.
Spread some holiday email cheer
While you may already have a holiday email campaign in motion, it's never too late to make tweaks along the way. The more you can make your emails stand out from the rest this time of year, the merrier the season will be for you and your business.
Ready to send your own holiday emails? Get started with a free AWeber account today and plan your holiday email cheer now.