The race to grab Featured Snippets, those short answers that appear at the very top of Google's search results, has turned into somewhat of a feeding frenzy in the SEO industry. The following article will tell you all the essential information you need to know about Featured Snippets and provides detailed guidelines on how to obtain them.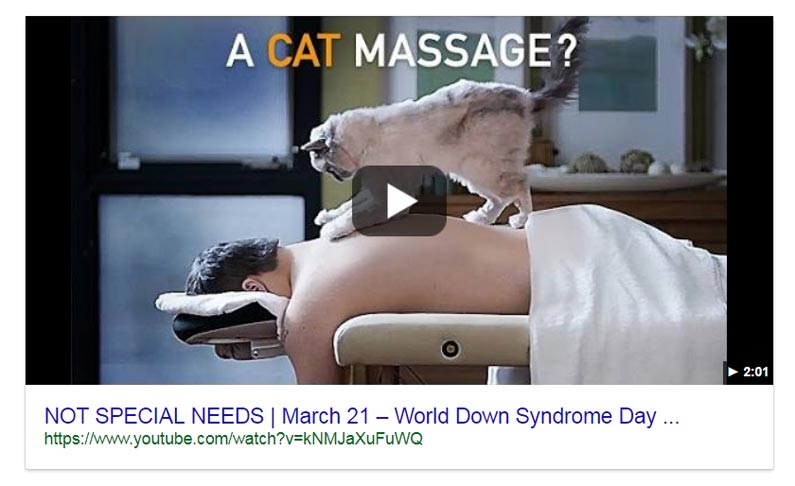 What are Featured Snippets?
Featured Snippets are short, direct answers shown by Google at the top of the first page of search results in response to search queries in the form of questions, or which imply a search for specific information. Featured Snippets usually provide answers to questions like Who, What, When, Where, Why, and How, but the search phrase does not have to include one of these words, and certainly doesn't need a question mark because Google's algorithm does a pretty good job of interpreting the searcher's intent.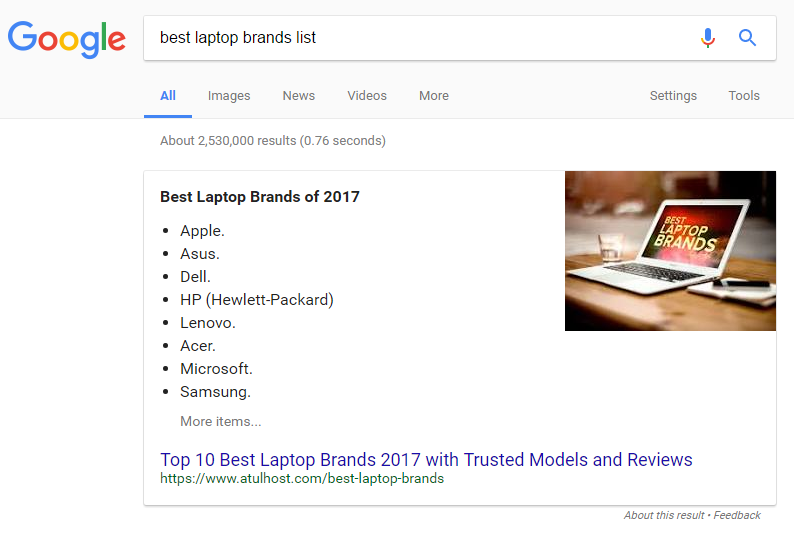 An example of a Featured Snippet in response to the query "best laptop brands list"
The Evolution of Featured Snippets
Originally, Google began providing short answers to questions posed in search queries directly on the search results page in the Knowledge Panel appearing to the right of the search results, and later above the search results in the main column. These short answers were informational factoids provided in response to queries requesting information like the age of a particular celebrity or the population of Uganda, and they were referred to as Quick Answers. The information in these quick answers was manually curated content usually provided without a link to a source (although sometimes there would be a link to Wikipedia).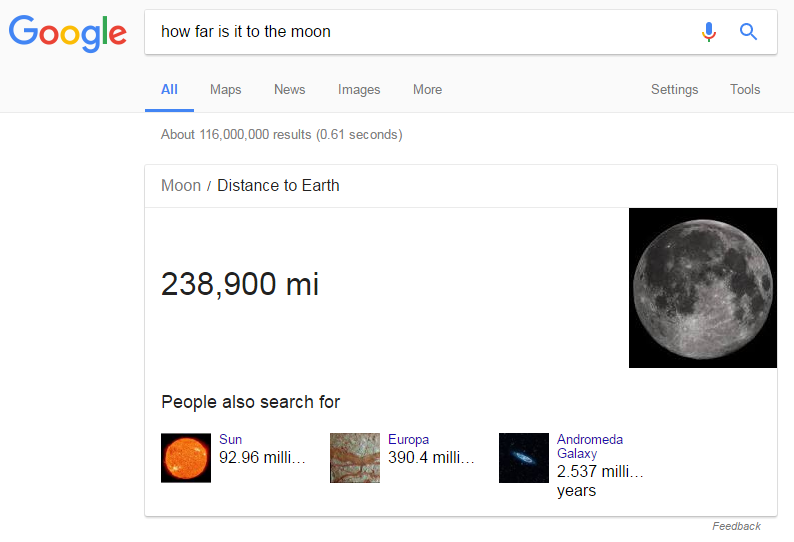 Quick Answer, publicly available information, generally with no link to a third-party website
At the beginning of 2014, Google rolled out another similar type of quick answer at the top of Page 1 of the search results. These too were short answers to searchers' questions but with one difference – they were extracted from websites around the web and a link was provided to the source. There was no official Google announcement about the feature, but when asked about it early on, Google's spokesmen used the name Quick Answers for these as well.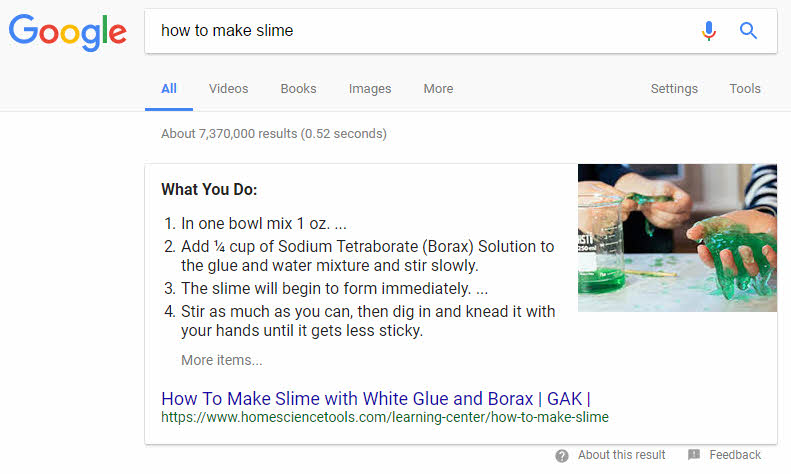 A featured snippet with an ordered how-to list
Over time, as discussion about the new feature progressed, the SEO industry used various names to refer to it such as Direct Answers, Quick Answers, Rich Answers, Answer Boxes and Featured Snippets. In June 2015, as part of an exchange of tweets about the naming of different SERP features Gary Ilyes wrote that the official term used by Google is Featured Snippets and that made the name official. 
When Does Google Link to the Source of the Answer?
Originally there was a lot of confusion around Google's policy of when they provide a link to the source of the answer and when not. In response to a question posed by Barry Schwartz, founder of the Search Engine Roundtable and News Editor of Search Engine Land, back in 2014, Google explained their policy by saying that information that appears in many places is considered to be in the public domain and therefore they do not provide a link to a source. On the other hand, when the content is "not widely-known information" or when they "show relevant snippets from web pages," Google will "typically show the source", unless they are licensing the information from the source in which case it depends on their licensing agreement.
Featured Snippets Appear in the Following Formats:
Paragraphs –

a short excerpt of text, normally between 40-50 words. This is the most prevalent format for featured snippets. Oftentimes a thumbnail image appears alongside the text snippet.

Lists (ordered or bulleted)

– snippets formatted as lists are very common to present a list of items, the steps of a recipe or a process

Tables –

tables oftentimes appear in response to queries that request comparisons or pricing for different models, i.e., when the data is best presented in columns and rows

Videos

– a Youtube video player that often appears in response to searches for popular songs or movies
Examples of the different formats are shown below.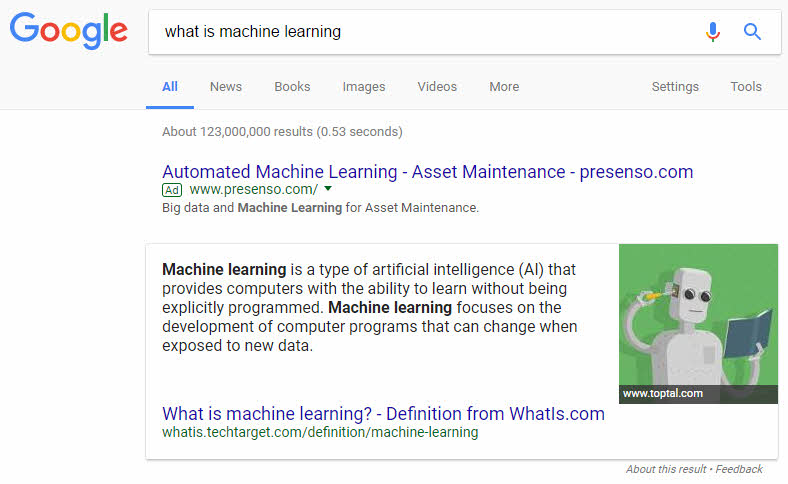 Featured Snippet in paragraph format
Featured Snippets in paragraph format are triggered by explicit or implicit questions of many types for instance "What is the life expectancy of a solar panel", "Is WordPress free", or implied questions such as "Ford Model-T years production", "image alt tags" etc.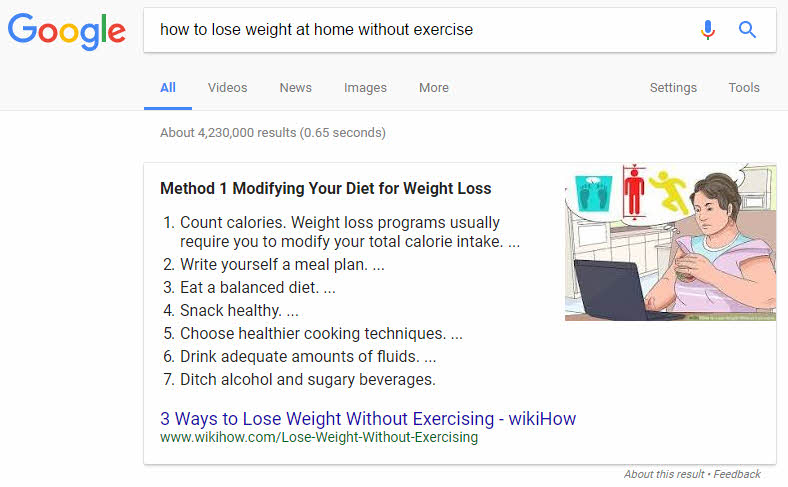 An example of a featured snippet with an ordered list
Featured Snippets with ordered lists most commonly show up in response to questions about any multi-step process such as a recipe or a DIY task — examples being "How to fill out a 1040ez" or "Creating a pivot table in excel 2013." Bulleted lists are normally triggered when there is a need for a list of items which have no particular order such as "Tools needed to change a tire."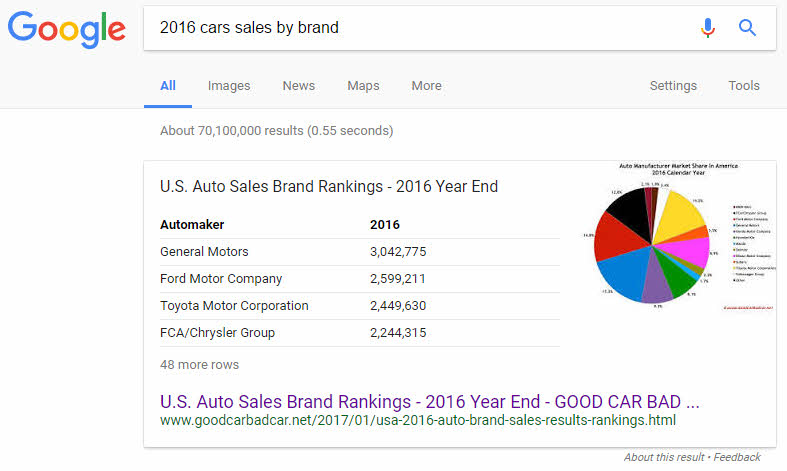 Featured Snippet in tabular format
Featured Snippets in tabular format show up for queries that request numerical or other data which is best presented in a structured format. Example search queries are "USPS prices" "Largest hi tech companies" and "inflation rates by country." This format is much less common than the other formats and that's partly due to the lack of content properly optimized in this format.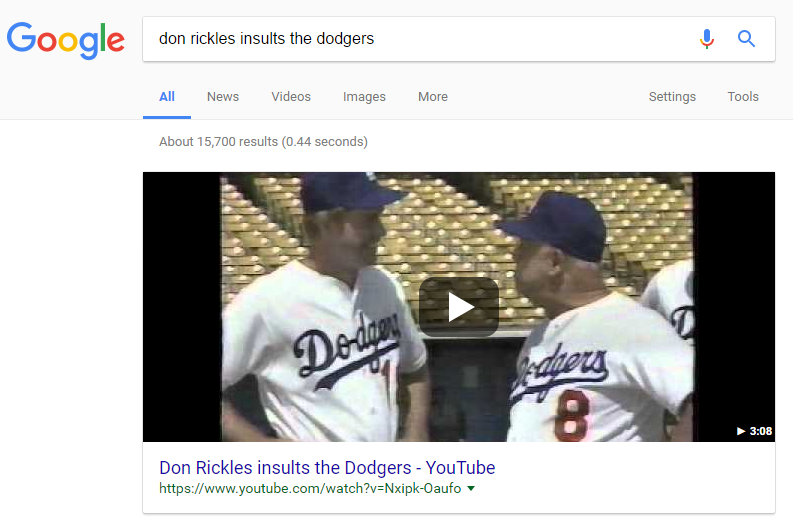 A Featured Snippet with a video from YouTube
Google shows a full-sized YouTube video player most commonly in response to searches for songs such as "There's Nothing Holdin' Me Back," commercials like "Audi duel" and DIY guides  This is a relatively newer format and certainly fits in with Google's goal of promoting YouTube.
Google Also Takes Textual Featured Snippets from YouTube Descriptions 

Google also pulls Featured Snippets in paragraph format from the descriptions of YouTube videos. The text intended for the snippet should be put at the beginning of the video's description.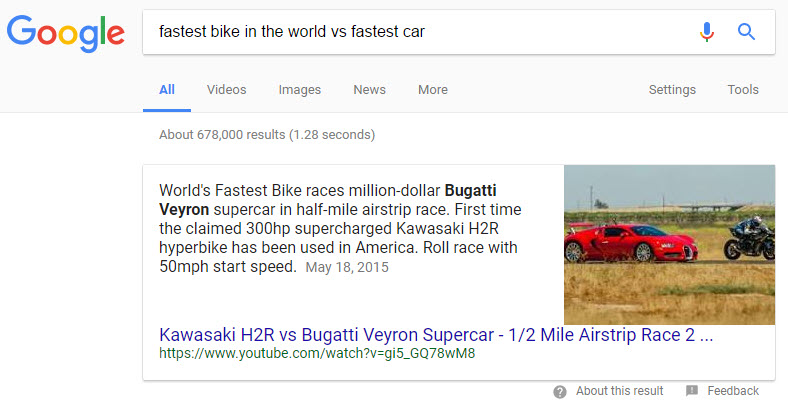 Featured Snippet with paragraph taken from YouTube video description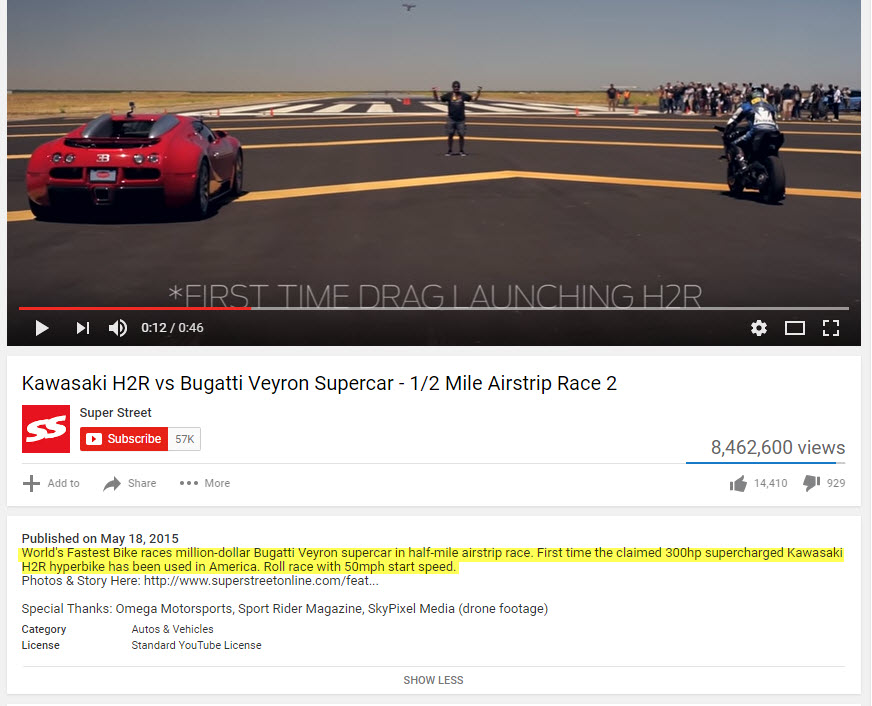 Description from YouTube video chosen for Featured Snippet
The Growing Prevalence of Featured Snippets
Over time, Google has added different types of Featured Snippets and has modified existing ones, but the most dramatic change has been the tremendous increase in the number of search queries that trigger Featured Snippets. 
In December 2015, the percentage of queries that produced Featured Snippets stood at a mere 3.8%. Six months later in June 2016, the percentage rose to 8.7% and as of May 2017, 21.9% of search queries display Featured Snippets.
Widely varying figures for this metric have been reported on various sources around the web. The reason for the divergent results lies in the types of keywords included in the study. Case studies based on keywords with a higher average monthly search volume will return a higher percentage of Featured Snippets. In addition, if the keywords in a study are predominantly from certain niches, that affects the resulting frequency figures because among the niches there is a wide variance. Data on the frequency of Featured Snippets in 20 different niches is presented further on this article.  
To demonstrate the abovementioned variance note the following graph from Rank Ranger's Google SERP Features Tracking Tool based on a database of over 100,000 keywords. In May 2017, the percentage of queries that triggered Featured Snippets was 9.7%. This stands in contrast to the 21.9% reported in Rank Ranger's Search Engine Labs Project which includes 20,000+ keywords from 20 niches. The reason for the difference is simple. The keywords in the Search Engine Labs Project are more optimized and have on average a higher search volume and therefore they trigger more Featured Snippets.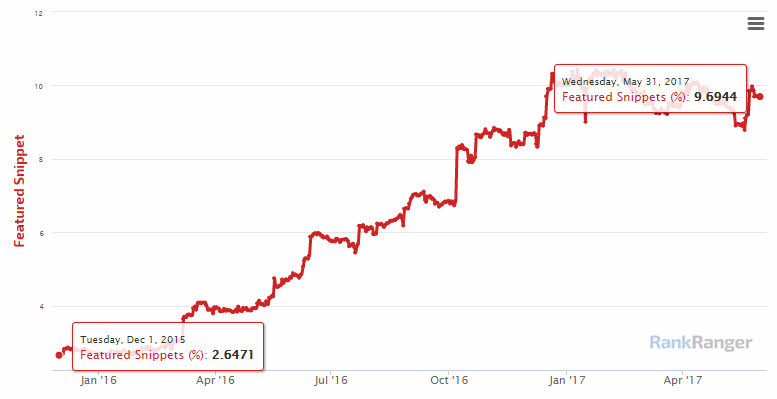 Percentage of search queries that trigger Featured Snippets Dec 2015-May 2017 (Source: Rank Ranger's Google SERP Features Tracking Tool)
Which Niches Have the Most Featured Snippets?
There are wide variations in the prevalence of Featured Snippets between different niches. According to Rank Ranger's Search Engine Labs Project, the keywords belonging to the following niches produced the highest percentage of Featured Snippets in May 2017: 
| | |
| --- | --- |
| 1. Health and Fitness: | 40.6%  |
| 2. Financial Services & Personal Finance: | 36.7% |
| 3. Business Services: | 35.5%  |
| 4. Technology & Computing: | 34.6% |
| 5. Pets: | 30.3% |
The niches with the lowest prevalence of Featured snippets were:
| | |
| --- | --- |
| 1. Consumer Goods & Services: | 3.2% |
| 2. Style & Fashion: | 4.3% |
| 3. Travel: | 5.9% |
The results for the complete list of niches appears below.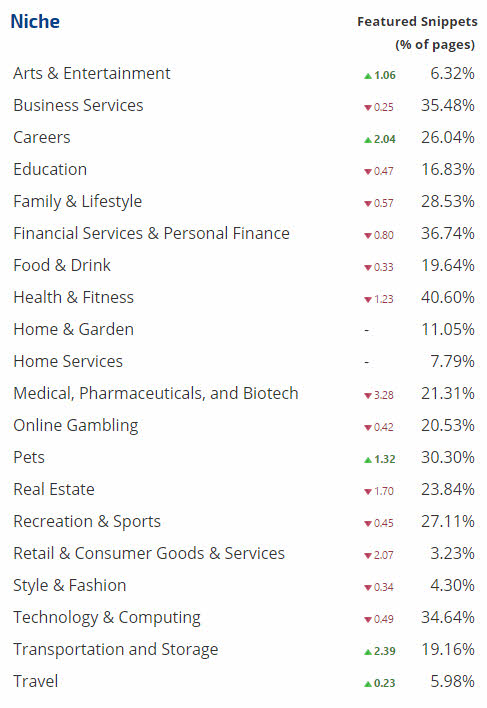 Prevalence of Featured Snippets by Niche (Source: Rank Ranger Search Engine Labs Project)
Which Positions on the SERP do Featured Snippets Come From?
Based on data from the Search Engine Labs Project, the overwhelming number of Featured Snippets today are found in the top ten search results. There are some outliers below that, but they are statistically insignificant. 
The key findings vis-a-vis the organic position of Featured Snippets are as follows:
The top organic result is chosen as the Featured Snippet almost one third of the times

The top three results account for 69% of the Featured Snippets

Each of the results in positions 6-8 are shown less than 3% of the time

Positions 9 and 10 are both below 1%

Search results below position 10 are rarely chosen as featured snippets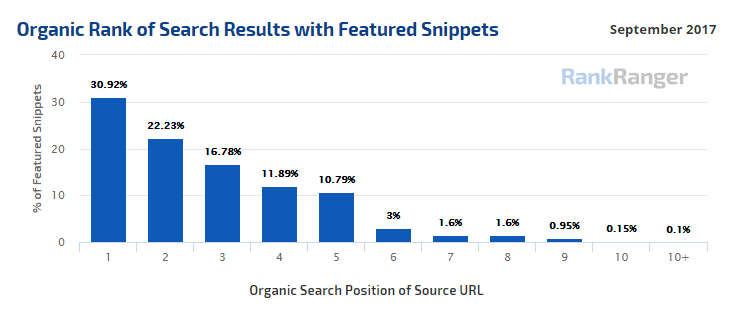 Organic Positions of Featured Snippets – September 2017 (Source: Search Engine Labs Project)
A review of historical data shows that the dominance (over 31%) of the top organic search result in Featured Snippets has remained consistent (see graphs from May 2016 and December 2015 below). In Dec. 2015, Google was pulling a significant percentage of Featured Snippets (12.59%) from below the top ten search results. By May 2016, that percentage had dropped to .68% and in May 2017 those results were chosen only .07% of the time. 
Another clear trend transpired within the page one results. Originally there was no clear hierarchy among the top ten results, whereas today Google has adjusted its algorithm to achieve a clear gradation among the results in the various positions.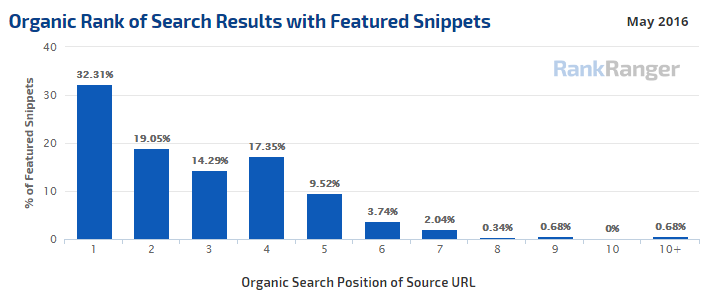 Organic Positions of Featured Snippets – May 2016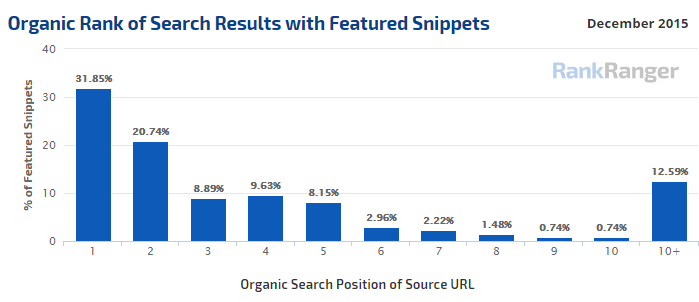 Organic Positions of Featured Snippets – December 2015
Pluses and Minuses for Website Owners
When Google first rolled out Featured Snippets, the general reaction was one of serious concern. Website owners felt that Google was "hijacking" their content and using it for their own benefit, and since Google was providing the answer people sought right on the SERP, there was a concern that there would be little reason for searchers to click through to the source website. 
During that early period, people were truly worried, and some still are, about how far Google was planning on going with providing answers taken from others on the top of the SERP. The following dialog, between Danny Sullivan (Founding Editor of Search Engine Land) and Amit Singhal (former Senior VP of Search and software engineer at Google), took place in March 2014, several months after Featured Snippets appeared. Danny's question was indicative of the atmosphere of anxiety regarding Google's moves. Singhal's Swiss army knife analogy didn't do much to assuage people's fears. 
DS: Are we gonna get to a point where every search gives a direct answer?

AS: If you look at a search engine, the best analogy is that it's an amazing Swiss Army Knife. It's great, but sometimes you need to open a wine bottle. Some genius added that to the knife. That's awesome. That's how we think of the Knowledge Graph. Sometimes you only need an answer.

The world has gone mobile. In a mobile world, there are times when you cannot read 20 pages, but you need something — an extra tool on your Swiss Army Knife. When you build a better tool, you use it more.

Blowback Against Featured Snippets
The blowback against Google for scraping content from websites and posting it as Featured Snippets swelled when Dan Barker, a Digital Marketing Consultant, cleverly caught Matt Cutts, former head of the web spam team at Google, in an embarrassing exchange of tweets. Cutts asked for help finding websites that violate Google's policy against scraping and posting content taken from others (see below). Barker proceeded to send Cutts a screenshot of a Featured Snippet about scraper sites that Google scraped and posted from another site. Barker's tweet was retweeted over 32,000 times. 

  
.@mattcutts I think I have spotted one, Matt. Note the similarities in the content text: pic.twitter.com/uHux3rK57f

— dan barker (@danbarker) February 27, 2014
In their documentation, Google explains that Featured Snippets are obtained through a process where the content is "extracted programmatically".

Google's explanation of where Featured Snippets come from
How Featured Snippets Affect Organic Traffic
The initially ambivalent response to Featured Snippets, centered on the concern that they would negatively affect website traffic, has since transformed into a race to obtain as many snippets as possible, as people realized that many times they can drastically boost web traffic and brand visibility. This traffic boost is particularly pronounced if the URL appearing as the Featured Snippet is positioned below the top three organic search results.
Featured Snippets – What's in it for Google?
The appearance of Quick Answers followed by Featured Snippets on the SERP stage raises the question of what Google's goal was in introducing these features. As documented above, Google has taken some serious heat about Featured Snippets and so they must see a significant future benefit to the company in order to justify the criticism and embarrassments.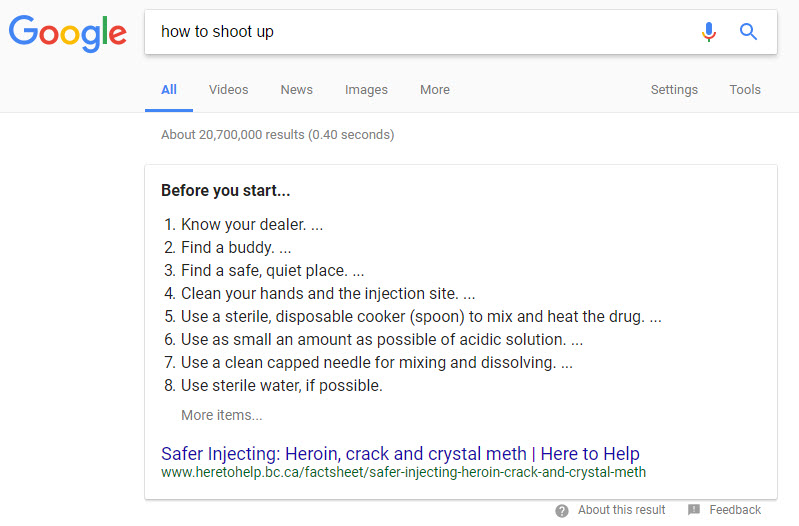 An embarrassing Featured Snippet giving step-by-step instructions on how to shoot up Heroin
One benefit to Google from both Quick Answers and Featured Snippets is that searchers find an answer to their question quickly without having to go any further. The benefit from Quick Answers is more clear-cut since the answers are human-curated factoids which definitely save searchers time and energy. And even Featured Snippets, despite certain problems of reliability and accuracy, often provide a useful service, particularly in how-to queries, presenting answers to questions right away or least a preview of the answer with the complete answer just a click away.
Theoretically, one could say that Google developed Featured Snippets just to stay ahead of the competition with a user-friendly SERP, but with Google dominating 63.4% of the search market versus Microsoft, its closest competitor with 22%, the search giant has no serious competition to be concerned about. 
What then was Google's main motivation in developing Featured Snippets?  
Voice Search and Google Home
The overriding motivation behind Google's development of Featured Snippets may be the centrality the company sees in voice search on both computers and smartphones as well as the potentially massive market for home assistants. Google's home assistant, called Google Home, was released in the US in Nov 2016, and it is competing head to head with the more veteran Amazon Echo. 
Quick Answers and Featured Snippets serve as a central data source for Google Home to provide answers to questions posed to it.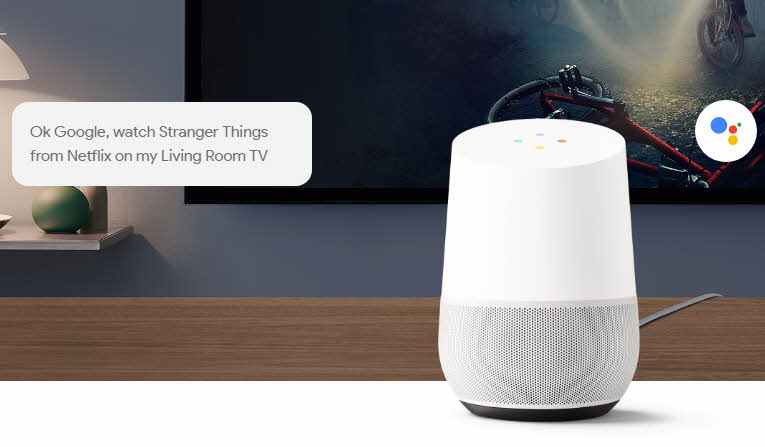 Google Home Assistant
Danny Sullivan did an excellent job of comparing the performance of Google Home to Amazon's Echo and found that although Echo has some extra features that Google Home lacks, Google's gadget beats Echo hands-down in providing answers to questions posed to it. The best example was when he asked both devices "Can guinea pigs eat grapes?". Amazon's Echo was completely stumped, whereas Google Home replied that they can eat grapes, but only the seedless kinds (Google Home still has it's embarrassing moments like when Sullivan asked who is the king of the United States, it replied "Barack Obama").
This type of competitive advantage definitely can explain and justify Google's development of Featured Snippets despite the obstacles.
Featured Snippets – Best Practices
Obtaining Featured Snippets has become a significant part of SEO professionals' efforts to increase organic traffic to their client's websites. The goal of this section will be to outline the current best practices for obtaining Featured Snippets and also to provide a deeper understanding of what Google's algorithm is ultimately looking for.
How to Obtain Featured Snippets
Look for search queries that explicitly or implicitly request information that is not public knowledge and that can be provided in a short answer format

Place the query and the answer adjacent to each other on a page which focuses on the topic

Focus on creating quality content for the article and the snippet text in particular

Format the answer as a paragraph, list or table based on the content type: 

Paragraphs for definitions or explanatory answers

Bullets or numbered lists for a list of items or a multi-step process

Tables for the presentation of data or comparisons

For lists and tables, present the information in the order of importance

Add an attractive, illustrative image near the Q&A to be included with the snippet
How to Find Keywords for Featured Snippets
Finding potential keywords for Featured Snippets involves performing some keyword research, but by using the following approaches you can discover some really valuable opportunities. 
Use Rank Ranger's Keyword Finder

which is a keyword research tool with a database of half a billion keywords. Keyword Finder lets you search for keywords and phrases that are in question format and those are great leads for Featured Snippets. 

Mine the questions from Google's "People Also Ask" feature

Search for keywords in your niche and look for search engine results pages with the People Also Ask Feature. 

Utilize Rank Ranger's

Featured Snippets Tool that provides a list of all the keywords included in a rank tracking campaign which trigger Featured Snippets
Now we'll dive into the details of how to take advantage of each of these methods to discover keywords that already have Featured Snippets or have potential to do so.
Discovering Keywords in Question Format Using Keyword Finder
Searching for potential keywords for Featured Snippets requires research, and an excellent way to begin is to find keywords in question format in the relevant website's niche. Rank Ranger's Keyword Finder, based on a database of over half a billion keywords, has a search option that filters the results to show the keywords in question format. For example, if one searches for the keyword "cheap flights", and activates Keyword Finder's "Questions" Quick Filter, one receives 239 keyword phrases with the term cheap flights in question format. 

  





Search query in Keyword Finder with Questions filter activated
The results can be ordered by search volume, and they can also be narrowed down further using additional filters for example if the goal is to focus just on long tail or short tail keywords.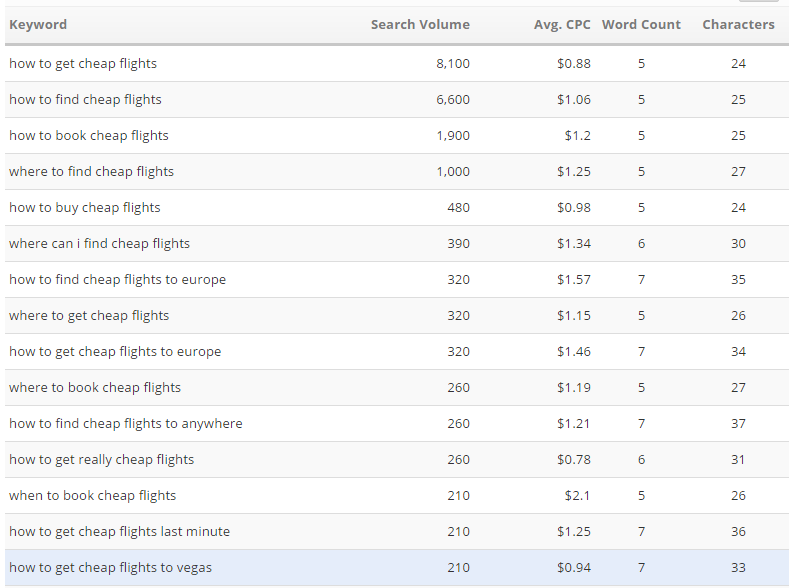 Some of the results provided by Keyword Finder in question format
Once you have the list, download it as a CSV (click on the down arrow), and open it in Excel or Google Sheets. The next step would be to check which keywords trigger a Featured Snippet and the last step would be to prioritize the keywords and to decide which are most relevant to your existing content or content that you would be interested in developing.
Using Google's 'People Also Ask' Feature to Find Keywords
Google's 'People Also Ask' feature provides on average four additional questions which are similar to the present search query. Clicking on a question displays snippets which look just like a Featured Snippet below the question. Although not all of these questions trigger a Featured Snippet if one searches for them – many do – and that is a great way to discover Featured Snippets.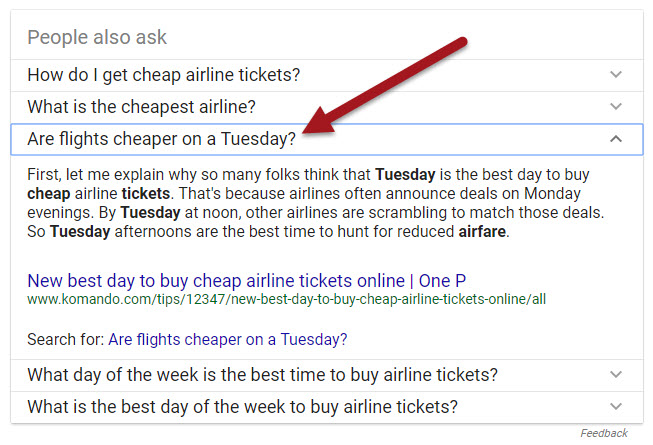 People Also Ask feature – a useful tool to discover related keywords that trigger Featured Snippets
It's important to note, the fact that Google is able to produce snippets for all of the People Also Ask queries, points to the notion that in the future many, many more queries will generate Featured Snippets.
Using the Featured Snippets Tool for Tracked Keywords
Another tactic to discover Featured Snippets involves using the Featured Snippets Tool in Rank Ranger. It provides a list of all the keywords tracked for your domain that trigger Featured Snippets. The report has a column that lists all the keywords that produced Featured Snippets. Next to each keyword is the domain name that appears in the snippet, its organic rank and the keyword's search volume. 
You can prioritize which keywords to target based on search volume, or based on another factor such as the organic rank of the domain presently holding the Featured Snippet. It probably will be easier to snatch a snippet from a site ranking 7 rather than one ranking in position 1.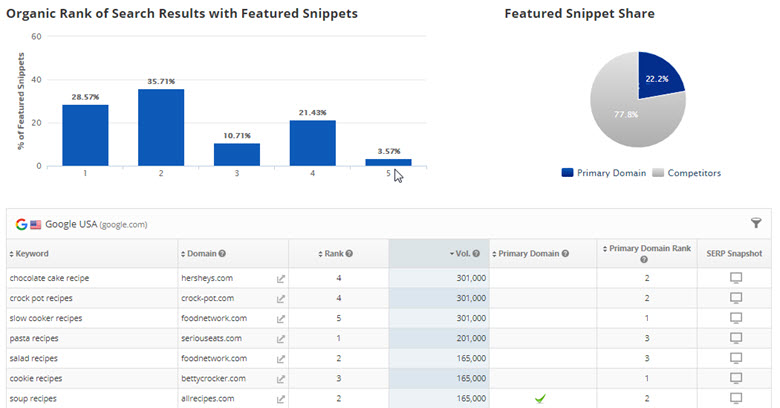 Adjacent to the domain name is a jump-off arrow that you can click to view the source landing page for the Featured Snippet. The landing page can then be analyzed with the intent of gaining insights that can be used to improve your own landing page. 
How to Optimize Content for Featured Snippets?
Google does not require that the question and answer be assigned particular HTML tags in order for it to successfully recognize and extract the content and create a featured snippet. That being said, optimizing the content and using the proper HTML tags can vastly improve the chances that a landing page will be chosen by Google for a featured snippet. 
An Example of Google's Prowess in Extracting Snippets Despite Lack of Optimization
The Featured Snippet shown below is based on content that is not optimized for Featured Snippets at all.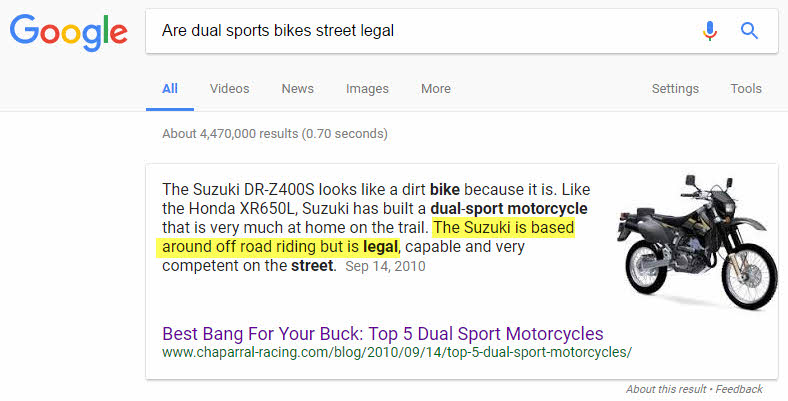 Featured Snippet based on an unoptimized landing page
The answer provided for search query above "Are dual sports bikes street legal?" is clearly of poor quality since the question is about sports bikes in general whereas the answer relates to a specific Suzuki motorcycle model. That being said, this example demonstrates that Google was able to locate and extract relevant content from the landing page despite the following difficulties:
The search query "Are dual sports bikes street legal?" does not appear separately on the page

The answer appears in mid-sentence in the middle of a paragraph marked with a paragraph tag so no semantic or HTML demarcation exists

The answer is mentioned only in passing regarding a specific motorcycle model. 




Snippet taken from inside a paragraph tag from an article entitled Best Bang For Your Buck: Top 5 Dual Sport Motorcycles
Optimizing the Content Can Bring Results
Despite the impressive capabilities of Google's algorithm to extract content from unoptimized pages, optimizing the content and HTML can drastically improve the chances of being chosen for the snippet. The featured snippet for the query "GDP by country" (shown below) exhibits the point.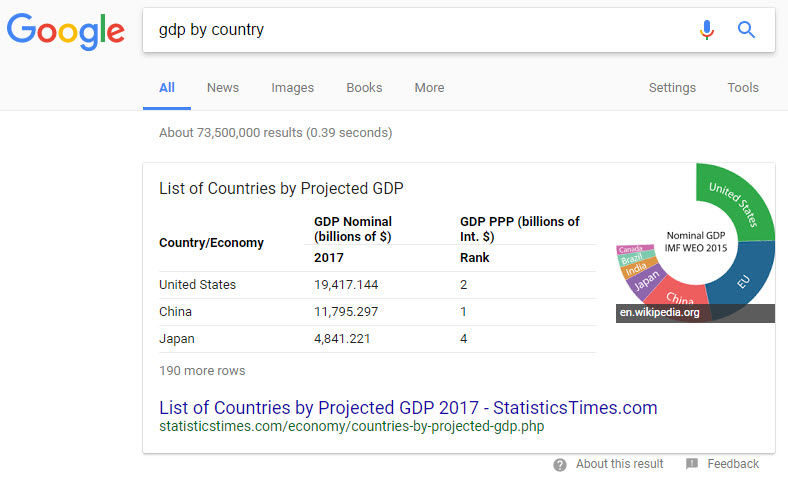 Featured Snippet with table showing GDP by country
The original source for the GDP data is the International Monetary Fund's website, but Google instead chose the table appearing on statisticstimes.com (which links to the IMF as its source) for the featured snippet. 

  





Table chosen by Google for the featured snippet from statisticstimes.com
Why was a small, unknown website chosen over the ultimately authoritative IMF which is the source of the data? The answer lies in the presentation, or more specifically in this case, the prioritization of the data. On the IMF website, the GDP table is sorted alphabetically by country name, whereas on statisticstimes.com the data is sorted by GDP, presenting the countries with the largest GDP at the top.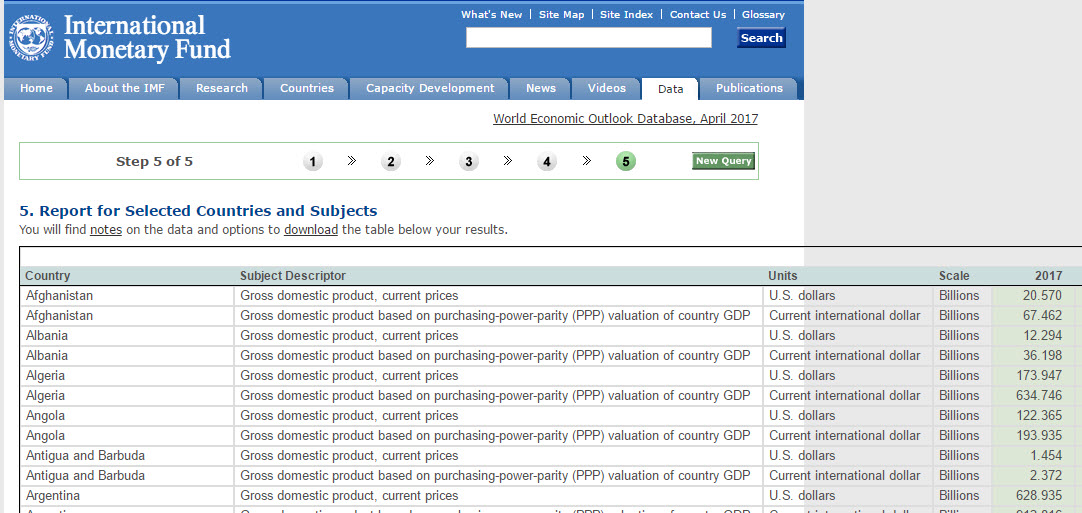 The original source table from the IMF's website
The resulting snippet from statisticstimes.com shows the GDP figures for the US, China and Japan whereas the IMF's table would have shown Afghanistan, Albania and Algeria. Certainly the GDP of the largest economies is more likely to interest people rather than the three countries starting with the letter A which are at the bottom of the barrel of world GDP. 
So we see that presenting content in a prioritized fashion can help an unknown website beat out an authoritative website which is also the source of the data itself!
Optimizing the landing page's HTML to clearly demarcate the query and the answer will also increase the chances of being chosen for a Featured Snippet. As shown above, Google can fish out the elements from a page even when the HTML code doesn't demarcate them, but that creates a certain risk for Google that the algorithm will make a mistake in identification. Therefore, all other things being equal, a page with optimized HTML is likely to be the winner. 
Recommended HTML Guidelines for Featured Snippets
It is recommended to place the text of the search query in an H tag (H1, H2, H3 etc) and the answer in the relevant format as laid out below:
Regarding snippets in paragraph form, the answer should be placed in a paragraph tag 

For lists, numbered and bulleted, the best practice is to format the items in an ordered or unordered list using the tags <ol> or <ul>.

The table tag should be used to format comparisons and presentations of data and the column headers should be bolded
Structured Data Markup Isn't Necessary

 
There is no need to format your content with Schema.org markup. The overwhelming majority of URLs with featured snippets do not use structured data markup and Gary Illyes, a Webmaster Trends Analyst for Google, stated that using structured data is not a requirement for Featured Snippets.
"Sneaking" into Competitive Featured Snippets with Images 



One of the best practices listed above is to include an image in proximity to the answer on the landing page. If Google doesn't find an image, it oftentimes will take an image from another source and append it to the content. This presents an interesting opportunity in some cases. 
What if you find a Featured Snippet for a keyword you're interested in, and you don't think you can dislodge the present snippet owner because your landing page isn't in the top 10 results? In that case, you can try to win the adjacent image spot by producing a well thought out visual summarizing the information in the snippet. 
See the example below in which the content was taken from the Centers for Disease Control and Prevention, but since there is no image on their landing page, Google took a relevant image from a Pinterest account. Although clicking on the image displays the image on Google images, another click on the image takes one to the host landing page.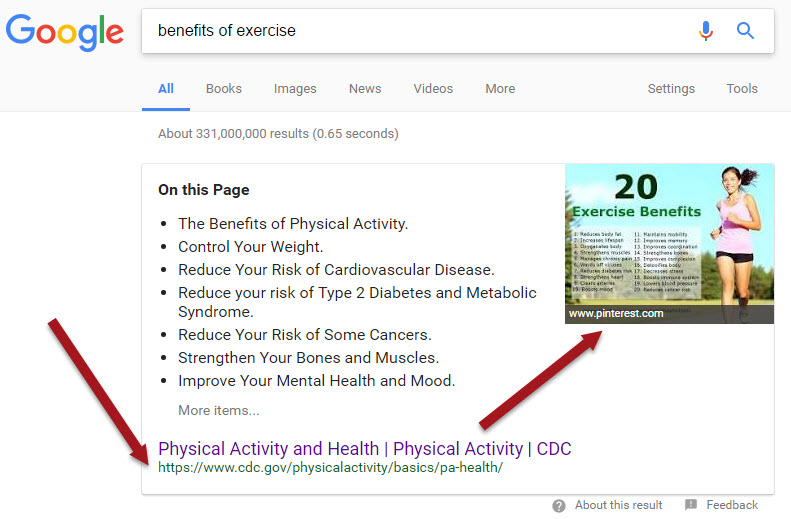 Featured Snippet showing an image from a different source (an image from a Pinterest account). 
Two Tips Regarding Featured Snippets in List Format




Google shows a maximum of eight items in Featured Snippets appearing in list format. If there are additional items, a link to "More items" appears at the end of the list. That fact can be taken advantage of to increase the click throughs to your website by adding more than eight items when possible. 

Google also limits the number of words displayed for each item in a list. If the item exceeds that limit an ellipsis (three dots) is displayed to indicate that the text was truncated. Although the ellipsis is not clickable, searchers may be more prone to click on the link of the landing page to read the entire texts.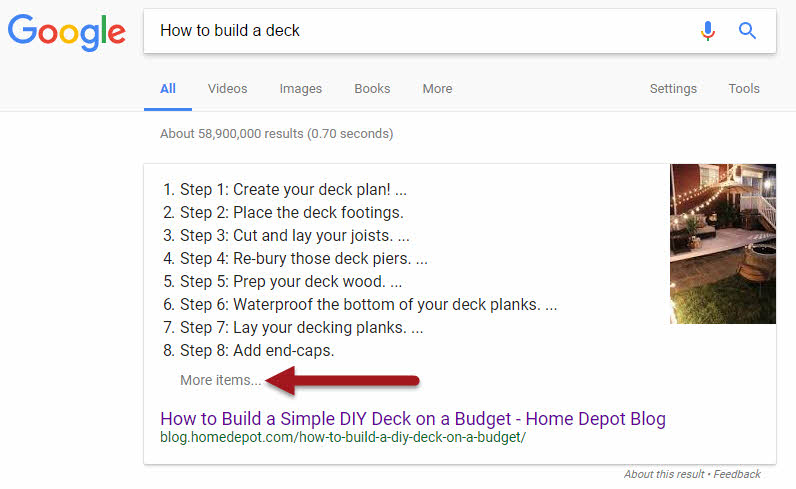 Featured Snippet with 'More items' link 


Additional considerations when optimizing for featured snippets:



1. Google can pre-process and display Featured Snippets very quickly based on breaking news

2. Google personalizes the featured snippets based on the searcher's location 

3. Google's algorithm changes the featured snippet for queries regularly so obtaining a snippet does not ensure that it will be retained

4. Slightly changing a search query can produce a different featured snippet
Featured Snippets – Where's All This Heading?
Featured Snippets are far more than just a direct answer to save searchers another click into one of the organic search results. They are part of a much bigger plan that Google envisions for the evolution of search in the years to come. That plan certainly includes the continued development of voice search, home assistants and other applications. What this means for websites is that the demand for optimized content will continue to grow, and the competition to provide that featured content will grow as well. 
The job of SEO professionals is to always stay ahead of the curve, and after understanding where all this is leading, allocating the necessary time and energy into optimizing for Featured Snippets is not a luxury, it's a must.