If you've ever invested time manually checking search results for your keywords in order to analyze your competitors' Google Ads ads, then we think you're going to love our new Google Ads Monitor. Allow me to take you on a tour of the Google Ads analysis features you'll find in the Google Ads Monitor – because there are many, I'll start by detailing one section at a time.
Google Ads Competitor Graph
The Ad Monitor Graph provides an analysis of competitor ads over the past 60 days in a colorful and interactive format. Top advertisers, competing for a keyword in paid results, are displayed with their ad position rank in this trend graph.  A combined metric hover option displays all competitors and their ad rank for a specific date. The legend below the graph can be toggled on or off and has a competitor filter feature that allows for clicking off a domain to remove it from the graph, so as to enable targeted analysis of specific competitors.
==> Check out our Advanced PPC Strategy Guide

Top Competitors displayed with Combined Metric Hover (displays all competitors for the selected date) and full legend enabled
Google Ads Anatomy – Individual Ad Analysis
Below the competitor graph, you'll find a snapshot of each ad that includes the ad title, landing page URL, ad content text, and the ad rank position.



Anatomy of a Google Ads Ad Analysis 
Because a domain may rank for more than one ad on the same day (or date range) for the same keyword, we've increased the level of detail in this tool to provide you with an option to view all the Ad SERP positions by simply clicking on the position number.  Change type is another deep analysis feature of the Ad snapshot, so let's move ahead in this tour…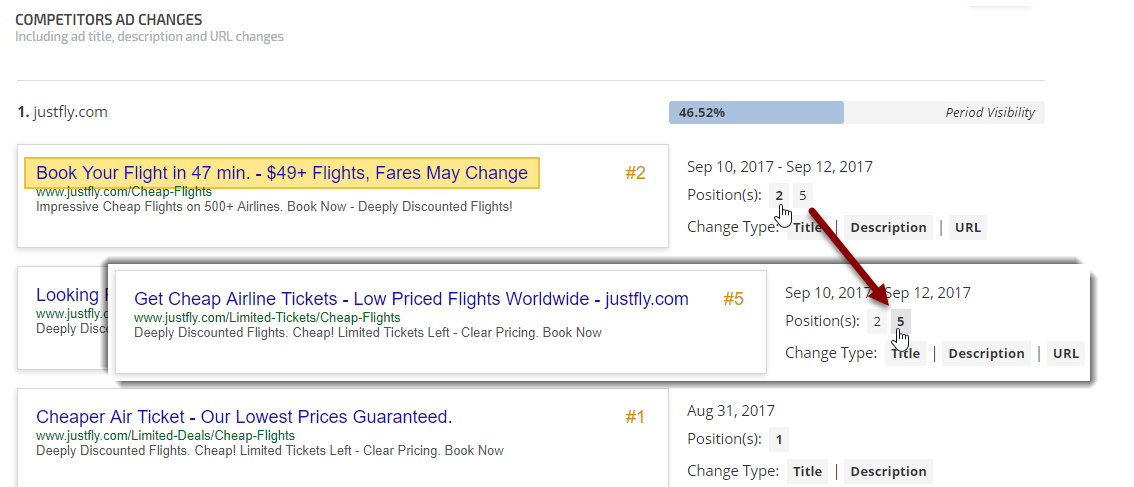 Discovery and analysis of multiple competitor ad positions
Analyze Day-to-Day Ad Changes
The type of change in ranked ad content from one time period to the next for the same keyword can provide deep insights into both competitor advertising strategy and what Google thinks about the ad content, so we've included a Competitors Ad Changes report in the Google Ads Monitor. Simply hover over the Change Type: Title, Description, or URL, and the changes between the previous and current ads are highlighted for easy viewing. 
==> Check out our Google Ads Competitor Analysis guide
In this example, we hovered over only a few of the changes in order to provide a visual demonstration of the highlight feature. For example, between September 3rd and 10th, the title (as well as the description and landing page) for the ad that ranked in position 2 changed – in the screenshot below, the hover is on the Title change.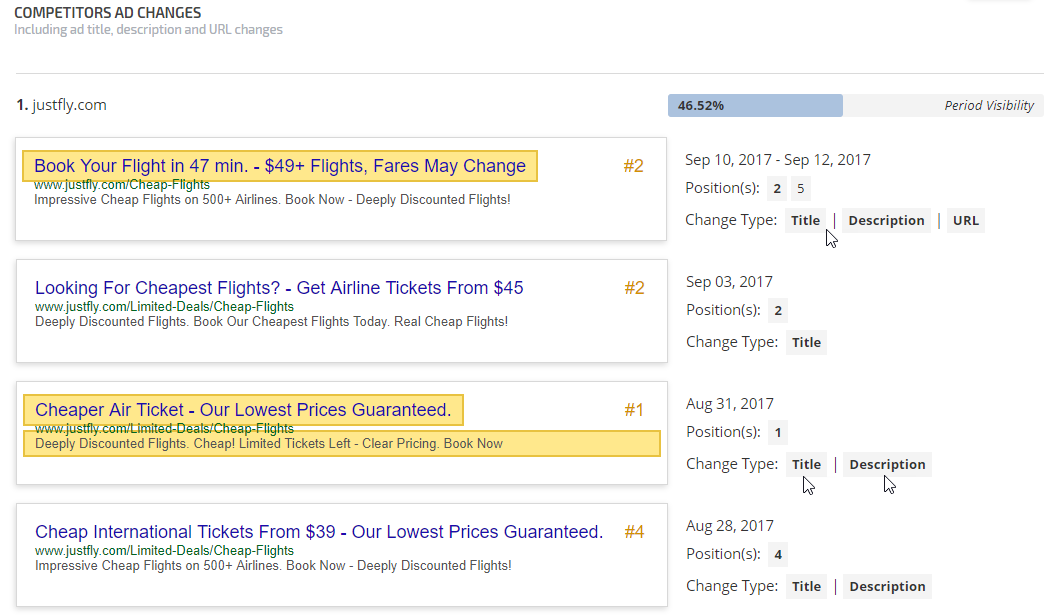 Analysis of Ad changes from day-to-day
Detailed Ad Strategy & Performance
Putting it all together in the simplest terms, the Google Ads Monitor provides an easy way to deeply analyze competitor ad strategy and performance.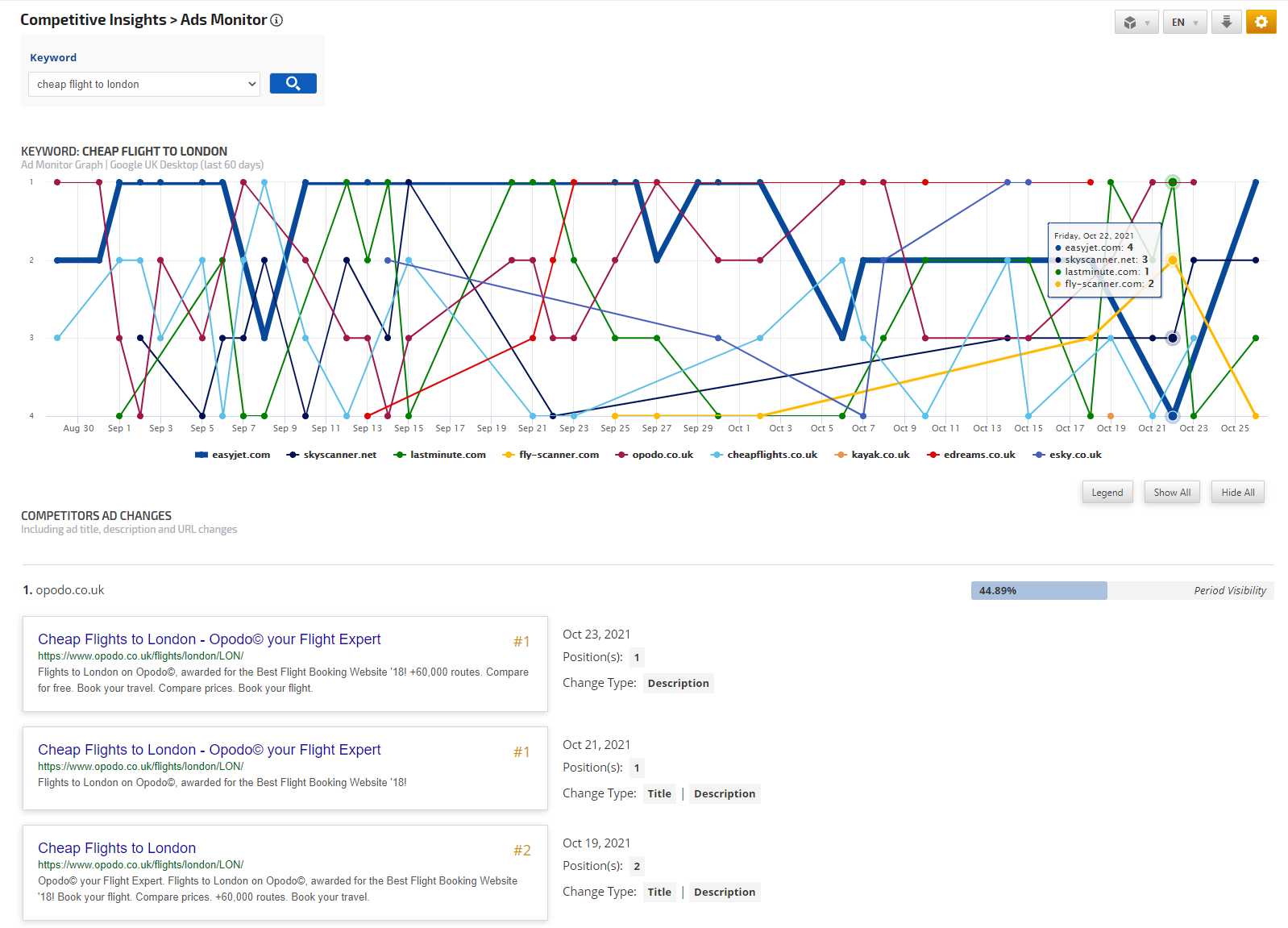 Analyze competitor ad strategy and performance
This new Google Ads analysis tool is located in the Reports > Research section of Rank Ranger under the Competition Analysis heading. As with all the marketing analysis tools and reports that we develop, we look forward to your feedback – let us know what you think, and what you need.