Printed electronic materials are used in manufacturing antennas, flexible displays, soft energy devices, sensors, etc., that are used in various sectors. One of the most promising sectors where printed electronic materials are in huge demand is healthcare.
Conventional methods of vital tracking, physical therapy, and healing have now improved with the usage of printed electronic materials. Medical devices such as biosensors and flexible printed heaters are offering cutting-edge solutions for detecting early signs of illness while speeding up recovery times, making virtual healthcare a possibility and future.
This article will share a detailed study of printed electronic materials and their applications in the healthcare industry.
What are printed electronic materials?
Different printing materials incorporated to manufacture electronic devices through printing using various inks on different substrates are termed printed electronic materials.
Precision screen printing is one of the most common ways to print electrical components.
Printed electronic materials, mainly inks and flexible substrates, are the basis for manufacturing flexible electronics components, which are further used to produce new-generation devices.
The global printed electronic materials market in 2021 was majorly dominated by North America and China.
According to the BIS Research report, the global printed electronic materials market is projected to reach $17.55 billion by 2031 from $3.45 billion in 2021, growing at a CAGR of 18.82% during the forecast period 2022-2031.
Find more details on this report in this FREE sample.
Although printed electronic materials are commonly used in the automotive industry, the healthcare industry is currently focusing on the development of smart cards, safe medicine packaging, smart medical wearables, and others, while printed heaters and biosensors are life-saving applications of printed electronic materials in the healthcare sector.
What are the common applications of printed electronic materials in the healthcare industry?
Several printed electronic materials have been used in the medical sector for a long time across the world. Some common examples are flexible printed heaters, biometric sensors, and e-stimulation sensors which are new but have made significant changes in the healthcare sector.
Flexible Heaters: Flexible printed heaters eliminate the need for bulky-wired heating elements. It is a new technology in which functional inks are screen printed onto a flexible material.
As compared to traditional wire heaters, flexible heaters have several applications as braces, bandages, bedding, blankets, tapes, and wraps.
Since these printed heaters are made up of thin and flexible materials, they can be applied directly to a bandage and are also light-weighted, which makes them easy to carry along with patients. Flexible heaters are battery-operated; hence they are optimal for personnel dealing with cases of hypothermia or shock treatments in the emergency department.
Biometric Sensors: Sensors are used in the medical industry to monitor patient vitals. Though these sensors are highly useful, one major drawback is the wires that come along. Thankfully, printed electronic materials have solved this issue. The electricity with printed electronic materials flows with silver inks or traces of conductive carbon instead of wires. Moreover, these sensors are washable, as encapsulant layers can be added for water retention.
Biometric sensors are highly flexible and can be adhered even over the garments for tracking vitals and muscle activity. They can also be applied on the skin directly without the need for gels to get an accurate reading. Biosensors have a variety of applications in tracking heart rate by electrocardiogram (EKG), respiratory rate, temperature, muscle fatigue, muscle excursion by electromyography (EMG), and brain waves through electroencephalogram (EEG).
Electric Stimulation Sensors: Electrical muscle stimulation (EMS) sensors are used to send electrical impulses into the body. These pulses are sent to specific nerves for muscle contraction and speedy recovery times.
Electric Stimulation is commonly used in physical therapy for nerve and muscle stimulation in a similar way as flexible printed heaters to decrease wound recovery time.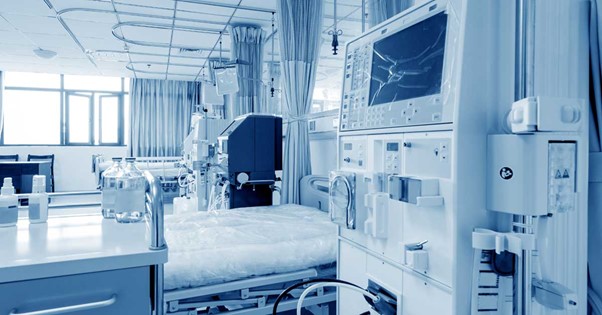 How are printed electronic materials making a difference in the healthcare industry?
After the COVID-19 pandemic, at-home healthcare has become a need for patients where printed electronic materials are playing a vital role in remote patient monitoring. With printed electronics, doctors also find it easy to manage and carry on the treatment and consultation with patients without getting into the hustle of traveling.
Since printed electronic materials are highly flexible, they can be printed on a variety of low-cost materials. Lowering the cost enables printed electronic materials to cater to innovative yet low-cost volume fabrication.
Conclusion
Flexible printed electronic materials have enabled surgical devices to perform operations that were once considered impossible, and with such capacity, they have become advantageous in many ways.
The global printed electronic materials market is growing due to the rise in demand for flexible and high-performing materials in healthcare that can contemplate patient requirements.
Interested to know more about the developing technologies in your industry vertical? Get the latest market studies and insights from BIS Research. Connect with us at hello@bisresearch.com to learn and understand more.