This holiday season holds the potential to shake up the end-of-year retail experience for years to come as shoppers are coming out of the pandemic and back into the holiday fold. However, this year's holiday frenzy has taken a new path as we see businesses are working fast and furiously to make sales accessible to customers before the traditional "Black Friday" and "Cyber Monday".
It's been projected that consumer spending between November-December has shown a 10% increase since 2020. To prepare for the holiday season, businesses should have a "digital-first" mindset while remaining agile as consumer preference between online and in-person shopping will likely vary throughout the season. 
To cover all the bases, brands should optimize their multichannel customer experience, providing online and offline touch points to meet consumers where and how they want to shop. Whether that's from the convenience of their computer or mobile device or in-person at their favorite retailer. Tracking all of these channels and touch points can get tricky. Luckily, there's Bitly Campaigns to help marketers organize their multi channel initiatives and react quickly to changing consumer behaviors.
Organize Your Multichannel Campaigns
For digital marketers, the holidays are all about organizing and managing multiple campaigns. From holiday commercials, influencer partnerships, product rollouts, and end of year bundles, there are multiple campaigns a digital marketer can run during this busy season. Bitly Campaigns helps you compare the performance of your cross-channel efforts in a single streamlined view. This makes it easy to organize your campaigns in a way that makes the most sense depending on your objectives.
For example, your main aim may be to understand which channels are driving the most consumer engagement for your brand. If so, you might organize your campaign channels like this: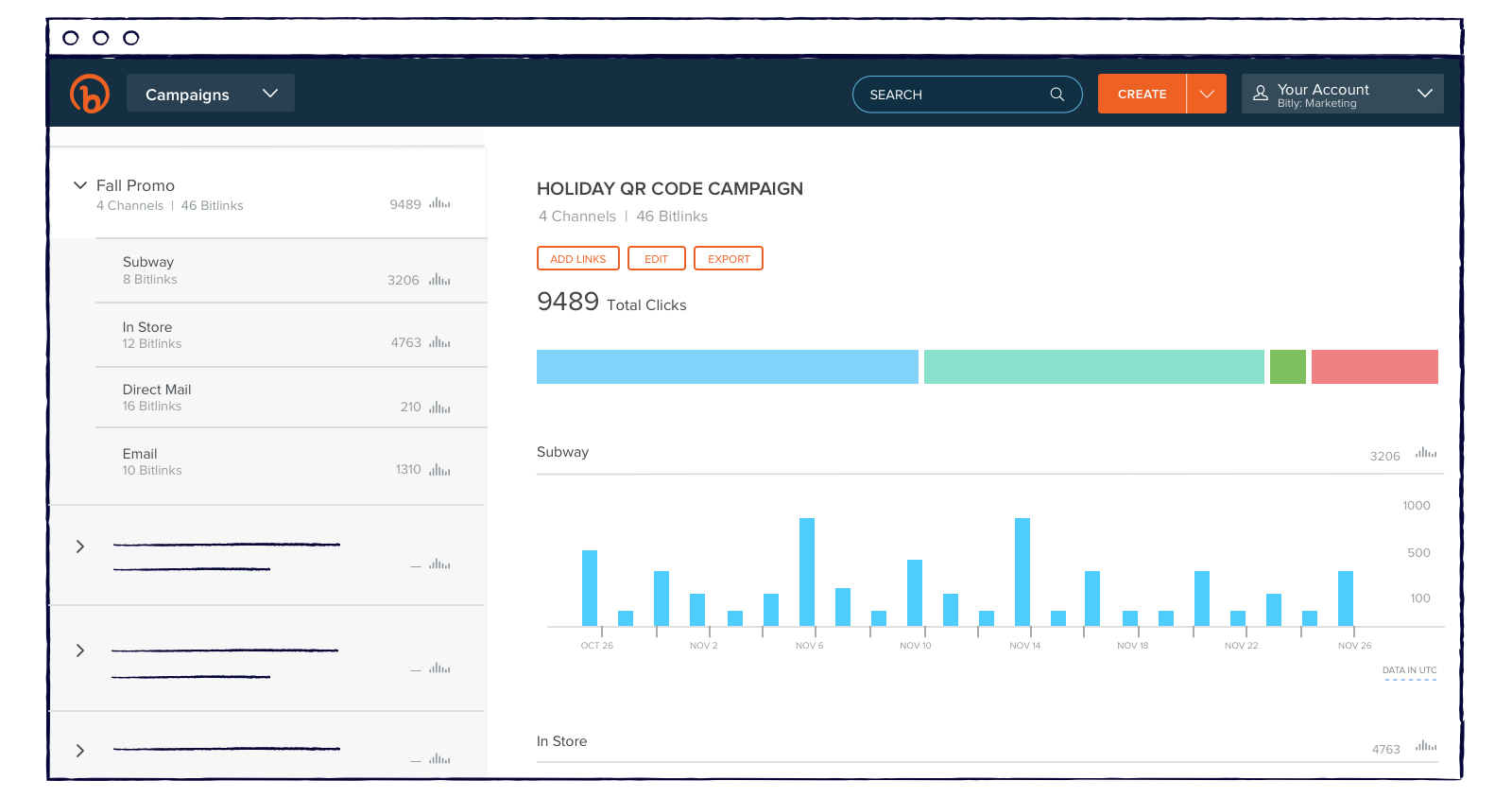 However, say you're more concerned with what type of offer is performing best. You might create a campaign for each of your online and offline offers that would look something like this: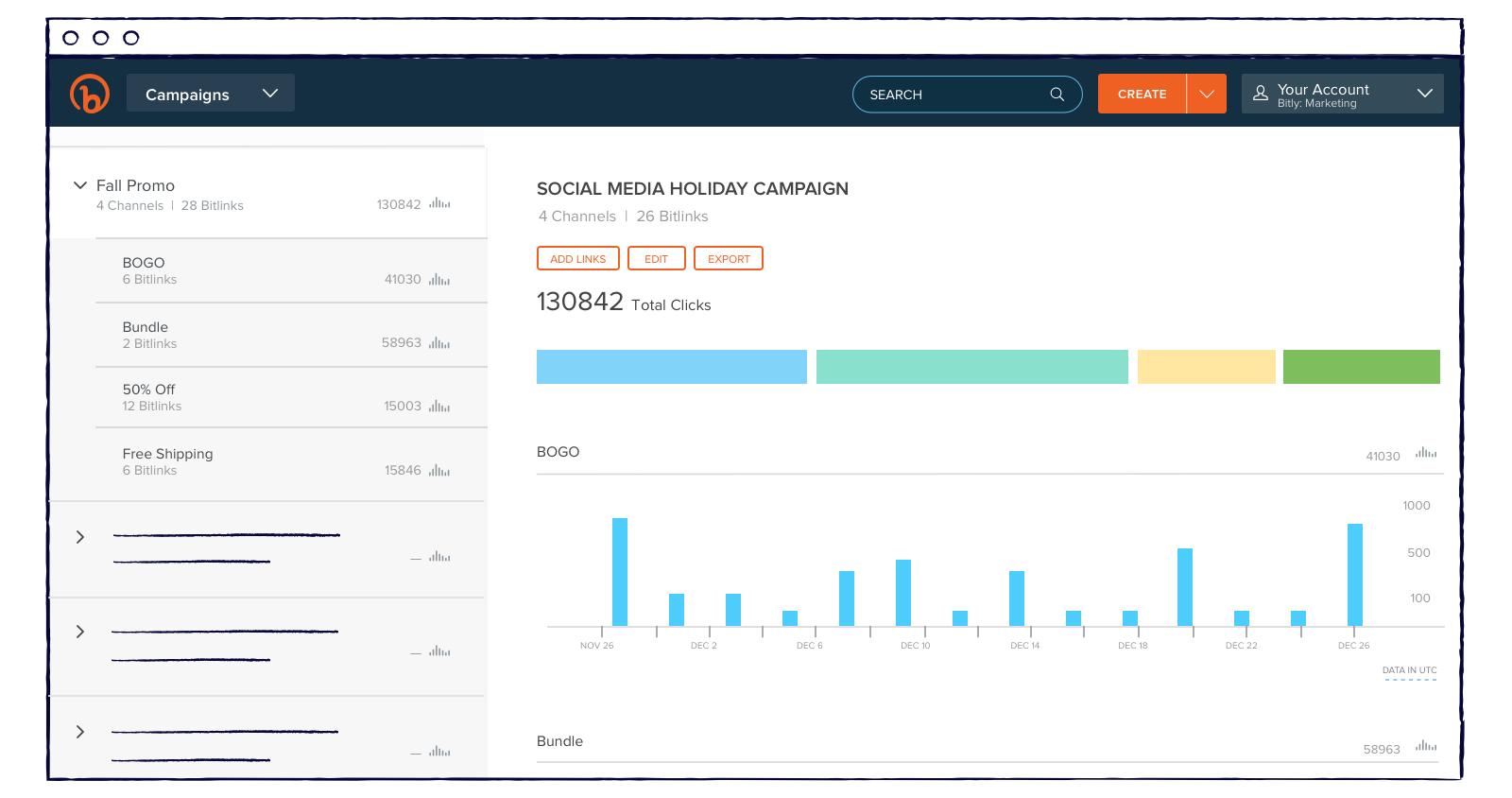 Once you've set up your campaigns, you can start adding Bitly links to your channels.
Identify "Hotspots" and Areas to Improve
As shoppers begin to click your links—or scan your QR Codes—you'll see which marketing efforts are driving value for your business. Bitly provides click metrics in real time, so you'll always have up-to-date information on your holiday campaign performance.

You'll be able to see important data points, like:
How many times a link is clicked
When it was clicked
Where it was clicked (city and country)
Referrer information (e.g., Facebook, Twitter, Google)
With a clear view of what's working, you can remain proactive about your brand's marketing activities throughout the holiday shopping season.
---
---
Take Action
Using Bitly, you can make real-time changes to your marketing strategy—like where and how you allocate resources, where to test new messaging and which marketing efforts to pull the plug on.
For example, say you find that your QR Code campaign has really taken off in your direct mail fliers—people are scanning them like crazy! In contrast, the codes you've printed on subway advertisements aren't getting nearly as much engagement.
Knowing this, you might decide to invest more in direct mail throughout the rest of the holiday season and less in subway promotions. Leaning into what's going well will help you know how to allocate your resources to maximize profit throughout the holiday season.
For promotions that aren't doing as well, you might decide to stop running them and reallocate resources. Or, you could test new messaging to see if that draws more engagement.
Bitly makes it easy to know where to iterate and when switch direction. This holiday season, you'll need to be prepared to do both well in order to succeed.
---
For retail marketers, advance planning and an agile approach will be key to holiday success. With powerful data and tools, Bitly can help you maximize revenue and optimize every customer touchpoint. To find the right plan for you, visit our pricing page.