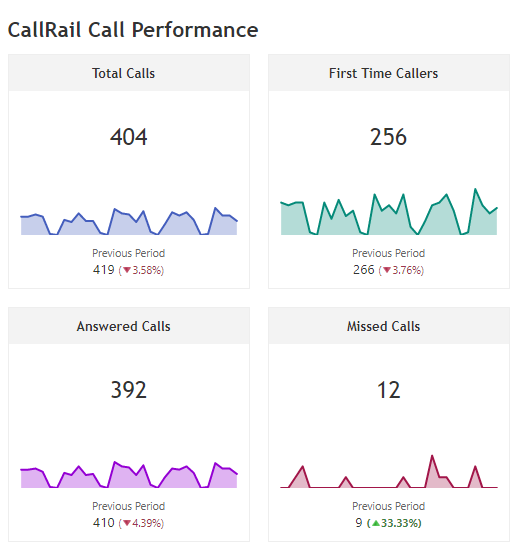 CallRail customers may be excited to learn that you can now add call performance reports and graphs to white label reports and dashboards via one of our latest third party integrations. CallRail is a marketing tool for tracking and measuring call conversions from search, social, PPC, digital marketing campaigns, and even offline marketing activities.
We wanted to offer you both aggregate and comprehensive views of the data available in your CallRail integration, so we developed the CallRail Overview and CallRail Call Details reports, and also made that data available in Insight Graphs and Metric Widgets to give you creative freedom.
CallRail Overview Report
The CallRail Overview report includes a combination of numeric statistics and visual presentation, allowing you to customize options in the manner you have come to expect in Rank Ranger reports.
Aggregate Call Tracking Data 
The CallRail Overview kicks off the report with a display of aggregate call tracking data for the selected date range. Giving users numeric insight into their overall incoming call performance, this section of the report includes the following metrics: 


Total Calls

First Time Callers

Answered Calls 

Missed Calls 

Average Talk Time




Aggregate call metrics data in Rank Ranger's CallRail Overview Report 
The Calls By Day trends graph provides a visual compliment to the overview, offering insights into the overall breakdown of all calls vs. first time callers. Hover over a point on the graph to view the corresponding call metrics.

The Calls By Day trends graph showing a daily comparison between all calls and new callers


Call Source Tracking Data 
Expanding on the aggregate day-by-day breakdown, the Calls By Source graph and table provide a more detailed breakdown of the incoming call analytics that CallRail provides. The number of calls and percentage of total calls is displayed for each call source, e.g., organic search engines, paid ads, social channels, direct, etc.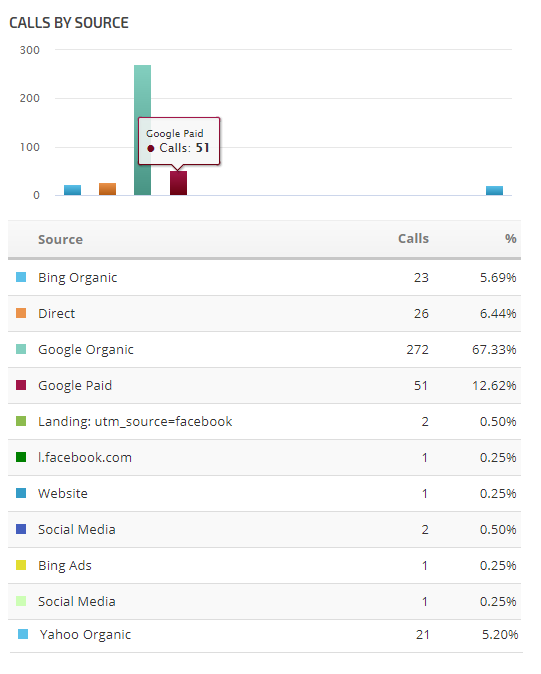 A visual and numeric breakdown of calls by source 

Complimenting the data provided in the Calls by Source table, the New Versus Repeat Calls section provides incoming call data by new versus repeat callers for each call source in the form of a bar graph and detailed table. 
Call Tracking breakdown of new versus repeat calls per data source 


Call Tracking Report Options 
Display the full CallRail Overview report or toggle off the report sections that you don't want displayed in the white label reports you share with your clients. For example, you may prefer to replace the Overview and Calls by Day sections with Metric Widgets or Insight Graphs.
Create Custom CallRail Graphs 
In addition to the CallRail Overview report layout, we've made CallRail data available within the Insight Graph and Metric Widgets so you can tap into your own creativity to tell the call performance story. Both graph tools provide the opportunity to demonstrate the correlation between call metrics and other data sources such as rank, visibility, site traffic, etc.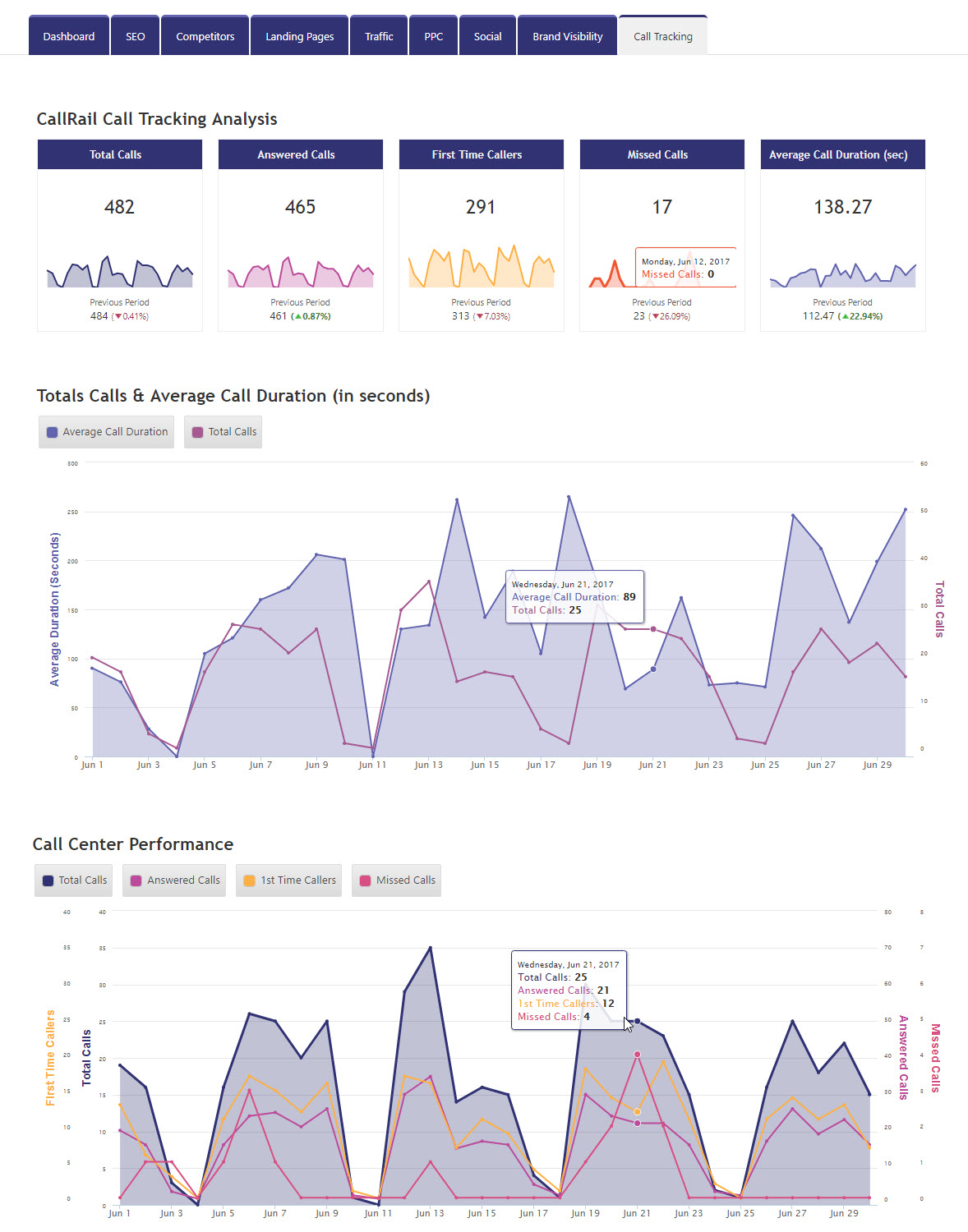 A Marketing Dashboard displaying Metric Widgets and Insight Graphs 
CallRail Call Details Report 
Thorough marketing and service performance analysis often requires one to dig into the minute details, that's why we created the CallRail Call Details Report for you. This call tracking report includes per call inbound and outbound call statistics. Choose from the following display options:


Customer's name

Whether or not the call was answered

The business phone number the customer called

The caller's phone number

Caller's city, state, and zip (postal) code

A filter for viewing inbound or outbound (or both types of) calls

Call duration

Call start time (date and time)

Tracking number option (if you use tracking numbers in CallRail)

Whether or not Voicemail was left

Audio recording per call (if available in the account)


A CallRail Call Details report displaying some of the available options.


Integrate CallRail into Your Rank Ranger Reports
CallRail integration requires a few simple steps, utilize our illustrated documentation to get started.
Earlier this year we entered into the call performance metrics arena with Call Tracking Metrics, and CallRail is the second call tracking integration in our suite, with Twilio to be launched in the near future.  If you're using a different call tracking solution and would like it to be incorporated into Rank Ranger, please let us know.