The global defense outlook presents an ambitious trajectory, with projections suggesting that the industry value will soar to an astounding $29 trillion by 2033.
According to data insights from BIS Research, after considering the top 30 countries with the highest military expenditure and investment patterns, the global defense market is expected to grow at a CAGR of 5.93% from 2023 to 2033.
Click here to download a free sample
This article provides valuable insights into the prevailing technological trends and anticipated changes that will shape the industry's landscape. Through this, stakeholders, policymakers, and industry players to effectively handle the challenges and opportunities that lie ahead in the dynamic landscape of the global defense market.
1.    Growing Investments in Advanced Aircraft
Electric and Hybrid Aircraft: Major defense contractors and aerospace companies are actively investing in electric and hybrid aircraft due to their cost-effectiveness, quieter operations, increased reliability, lower operating expenses, and sustainability. For example, in January 2023, the U.S. Air Force allocated up to $85 million to Electra, a next-gen aerospace company, to support the development of their hybrid-electric short takeoff and landing (eSTOL) aircraft.
Next-Generation Supersonic and Hypersonic Aircraft: Key manufacturers such as Hermeus and Lockheed Martin are utilizing advanced technologies such as 3D printing to develop high-speed aircraft by 2025. These manufacturers are also focusing on creating lighter composite materials to withstand high-speed flow and shockwaves. Hermeus secured a $60 million contract from the U.S. Air Force for their hypersonic-capable aircraft, Chimera, while Lockheed Martin is working on the hypersonic spy plane SR-72. These aircraft bridge the gap between drones and satellites, countering anti-satellite and area denial systems. According to BIS Research, the supersonic and hypersonic aircraft market is projected to reach $5.4 billion by 2032, with a 2.73% CAGR from 2022-2032.
Increasing Deployment of Multi-Mission Helicopters and Fighter Jets: Countries such as the U.K., China, Spain, India, and Saudi Arabia are developing and procuring aircraft to address re-emerging conflicts. For instance, the U.K. invested $1.48 billion to acquire 44 Airbus H175M helicopters, while Spain received MH-60R helicopters from Lockheed Martin through a U.S. State Department program. Additionally, the Indian Navy accepted 24 MH60R helicopters for anti-submarine warfare. Collaborations and partnerships between countries also contribute to enhanced security measures.
2.    Integration of the Internet of Military Things (IoMT)
The rise of the Internet of Military Things (IoMT) is transforming the defense landscape by connecting various devices such as sensors, vehicles, biometrics, wearables, robots, and unmanned aerial vehicles (UAVs) into a unified network.
The IoMT enables intelligent physical sensing, learning, and actuation capabilities through virtual interfaces. Aerial reconnaissance, supply tracking, data warfare, real-time fleet management, and resource allocation are some of the use cases for IoMT.
Augmented reality (AR) and virtual reality (VR) integrated with IoT are advancing defense operations and training. AR provides tactical advantages in training, maintenance, surveillance, and navigation, while IoT enhances situational awareness, risk assessment, and response time.
3.    Automated Military Systems on the Rise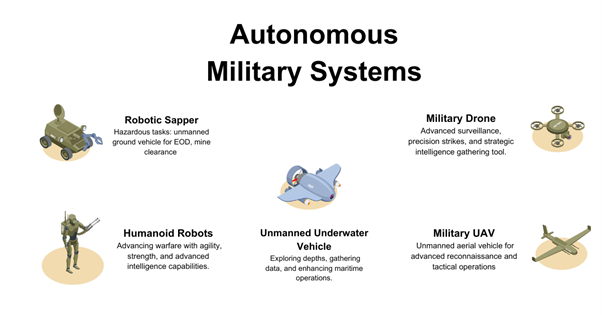 The utilization of automated military systems is on the rise, driven by advancements in technology. Fully and semi-autonomous defense robots play a crucial role in military campaigns, performing tasks such as reconnaissance, detecting snipers, and neutralizing explosive devices.
To establish trust in the autonomous function of robots, machine learning based on artificial intelligence will be integrated into defense robotics, facilitating the development of legal and ethical boundaries.
According to BIS Research, In 2022, the global military RAS market was valued at $17.57 billion and is expected to reach $19.79 billion by the end of 2033, growing at a CAGR of 1.10% during the forecast period 2023-2033.
4.    Using ChatGPT for Military Assistance
As technology progresses, ChatGPT can become more integrated into military operations, acting as an intelligent assistant in various fields. It can aid in real-time analysis of the battlefield, enhancing situational awareness by identifying patterns and anomalies. Furthermore, its language translation skills can bridge communication gaps in multinational missions.
With the rise of autonomous systems, ChatGPT can facilitate collaboration between soldiers and AI-powered systems, enabling seamless interaction. Its rapid data processing capabilities are invaluable for decision-making. By detecting enemy behavior patterns, war anomalies, and generating insights, ChatGPT supports decision-making. It also offers predictive analytics, allowing the defense industry to forecast threats, identify vulnerabilities, develop strategies, and create simulated training scenarios. Its natural language processing capabilities enable the analysis of unstructured data and the extraction of key information for training programs and simulations.
5.    Use of Edge Computing and Quantum Computing
The fusion of edge computing and quantum computing holds great promise for the defense industry. Edge computing enables data processing in proximity to the source, reducing latency and improving response times. When combined with quantum computing's computational power, this synergy allows for faster and more efficient processing of intricate data sets. In defense applications, this advancement can augment decision-making speed and accuracy. Quantum computing enhances security through its ability to perform complex calculations that are resistant to decryption. Integrating edge computing and quantum computing can establish a resilient and secure network capable of withstanding cyber threats, driving the development of innovative technologies for defense purposes.
Conclusion
The defense market is on the cusp of substantial transformation due to technological advancements and strategic investments. These factors will drive innovation, enhance capabilities, and reshape the industry, paving the way for a future of advanced defense systems and strategies.
Interested to know more about the growing technologies in your industry vertical? Get the latest market studies and insights from BIS Research. Connect with us at hello@bisresearch.com to learn and understand more.