HYVE Indoor Farming Systems and AGEYE, both known for their expertise in controlled environment agriculture (CEA) systems and automated platform monitoring for vertical farms and greenhouses, announced their collaboration on their first indoor vertical farming project on February 15, 2023.
This project will take place in Nebraska and will involve the construction of a 13,000-square-foot indoor farm that will mainly focus on growing leafy greens.
Read the Complete Story
This indoor farming project will feature AGEYE's artificial intelligence system, which will improve the grower's automation, monitoring, and complete turnkey system. By integrating this technology, farmers will be able to effectively manage their crops and receive valuable data to boost productivity and quality.
Moreover, AGEYE's software and monitoring system will add value to HYVE's systems, making it the most comprehensive and scalable solution available in the market for medium and large-scale commercial indoor farmers.
Ron Acorn, President of HYVE, stated, "We are thrilled to announce our latest expansion plans, which involve integrating AGEYE's artificial intelligence system into our new installation. Although we have already launched several projects in the United States and Canada recently and have collaborated with AGEYE on a project in North Carolina, this upcoming project in Nebraska will be our first complete and all-encompassing joint venture since our partnership was announced."
Further, Nick Genty, Co-Founder and CEO of AGEYE, added, "We are thrilled to have the chance to incorporate our farm management and crop intelligence platform into this HYVE installation so soon after our partnership announcement. Given our previous collaboration with HYVE, we are confident that our system will complement and strengthen theirs, providing growers with exceptional automation, monitoring, and the latest complete turnkey system. We are excited to offer growers this unparalleled level of technology."
Indoor Farming Technology: From Seed to Harvest
Indoor farming is the practice of growing crops or plants in an indoor environment, such as a greenhouse, warehouse, or other enclosed space. This method of farming allows for precise control of environmental factors such as light, temperature, humidity, and nutrient levels, which can result in higher yields, better quality produce, and reduced environmental impact.
Indoor farming techniques include hydroponics, aquaponics, and aeroponics, which all use different methods to deliver nutrients to plants without soil. Indoor farming is becoming increasingly popular due to its potential to provide a sustainable and efficient way of producing food, especially in urban areas with limited access to arable land.
According to the BIS Research report, the global indoor farming technology market was valued at $5.84 billion in 2022 and is expected to reach $17.12 billion in 2027, following a CAGR of 23.99% during 2022-2027.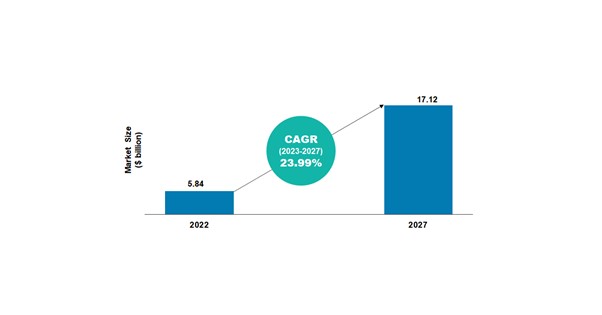 Find more details on this report in this FREE sample.
Furthermore, the global indoor farming technology market is projected to grow due to rising demand for sustainably produced food products with higher yields compared to traditional farming methods.
In addition, it is anticipated that indoor farming technology will become more affordable and widely available in the future. As more farmers begin to use these technologies, the cost is expected to decrease due to economies of scale, which will enable even small-scale farmers to adopt indoor farming methods.
Conclusion
According to Debraj Chakraborty, Principal Analyst, BIS Research, "Indoor farming technology provides numerous advantages to farmers, consumers, and the environment. It allows farmers to cultivate crops year-round, regardless of the weather conditions. Secondly, it decreases the reliance on harmful pesticides and herbicides, which are typically used in conventional farming methods."
Additionally, it enables farmers to grow crops in proximity to the point of consumption, thereby minimizing the carbon footprint associated with transportation. Thus, the robust development in the indoor farming technology market is increasingly changing the customers' perception of its utilization.
Interested to know more about the developing technologies in your industry vertical? Get the latest market studies and insights from BIS Research. Connect with us at hello@bisresearch.com to learn and understand more.