Satellite spectrum monitoring plays a vital role in enabling satellite-based surveillance and information gathering for military purposes. By leveraging advanced imaging and sensor technologies, satellites provide indispensable intelligence and reconnaissance data crucial for military operations.
As governments worldwide invest in advanced communication technologies for their defense systems, the demand for satellite spectrum monitoring continues to soar.
According to the BIS research report, the satellite spectrum monitoring market is projected to reach $8.38 billion by 2033 from $3.34 billion in 2022, growing at a CAGR of 8.78% during the forecast period 2023-2033.
To get more information, download this FREE sample report.
This blog will uncover the factors behind this remarkable growth and the implications it holds for the future of military communication capabilities.
Exploring End User Demand for Satellite Spectrum Monitoring
The satellite spectrum monitoring market is segmented into different sectors that offer services, including aerospace, maritime, oil and gas, military, government, telecom, and media and entertainment. With technological advancements and an increasingly congested spectrum, the demand for satellite spectrum monitoring is rising.
Aerospace: Satellite spectrum monitoring is vital for reliable and efficient communication between aircraft and ground control.
Maritime: As maritime operations increasingly depend on satellite technology; spectrum monitoring becomes crucial for managing and safeguarding limited radio frequency spectrum resources.
Oil and Gas: This industry heavily depends on satellite-based communication systems to establish connections between offshore platforms, drilling rigs, and remote facilities with onshore operation centers.
Military: The military heavily depends on satellite-based technologies for situational awareness, command and control, and intelligence-gathering purposes.
Media and Entertainment:  Media companies depend on satellite communication systems to distribute content worldwide and ensure extensive coverage, facilitating the provision of top-notch broadcasting services, satellite TV, and satellite radio.
Telecom: Telecom firms rely on satellite communication systems to provide reliable and interference-free communication services and internet services to clients across vast geographical regions.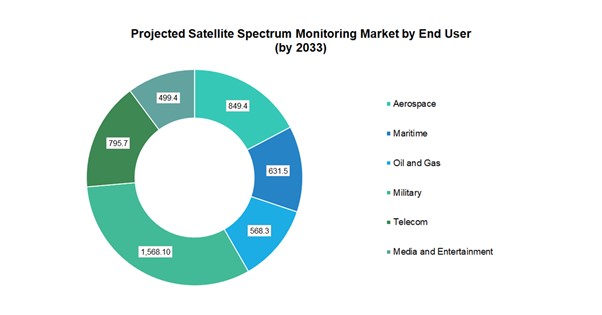 Military Segment to Dominate the Satellite Spectrum Monitoring Market
Satellite spectrum monitoring in the military enables satellite-based surveillance and information gathering. Satellites equipped with advanced imaging and sensor technology to provide vital intelligence and reconnaissance data for military operations.
The military sector generated a revenue of $0.71 billion in 2023 and is projected to exhibit a CAGR of 8.14% between 2023 and 2033. This growth trajectory is expected to propel the market to reach a substantial value of $1.56 billion by 2033.
In 2021, Kratos Defense & Security Solutions offered satellite ground systems and monitoring solutions that enable military forces to assess and utilize signals within the electromagnetic spectrum for various purposes, including threat identification, electronic warfare, and communication interception.
Conclusion
By monitoring the satellite spectrum, military forces enhance their situational awareness and intelligence capabilities on the battlefield, ensuring the accuracy and reliability of satellite imaging and data collection. Moreover, satellite spectrum monitoring can help the military to detect and identify potential threats such as hostile radar systems or jamming attempts.
Interested to know more about the developing technologies in your industry vertical? Get the latest market studies and insights from BIS Research. Connect with us at hello@bisresearch.com to learn and understand more.