The field of single-cell multi-omics has emerged as a revolutionary approach to understanding the complexity of biological systems at the cellular level. 
By analyzing individual cells, researchers gain valuable insights into cellular heterogeneity and reveal previously unseen cellular interactions. 
This has paved the way for the development of advanced cell analysis platforms, which are projected to drive the global single-cell multi-omics market to reach $7.72 billion by 2033 from $1.43 billion in 2022, growing at a CAGR of 17.27% during the forecast period 2023-2033. 
Click here to download a free sample
This article delves deep into the emerging cell analysis platforms and their significance in the growth of the single-cell multi-omics market.
Tapestri Platform
On 11th April 2023, Mission Bio and Fulgent Genetics partnered to bring single-cell multi-omics capabilities to Fulgent Genetics' range of services in genomics and pathology. The collaboration would accelerate the generation of precise clinical trial data for biopharmaceutical customers.
The Tapestri Platform is rapidly gaining popularity in translational research and clinical development. It offers a unique advantage in clinical trials by enabling single-cell analysis of both genotype and phenotype from the same cell. This level of analysis provides substantial sensitivity and resolution for biomarker discovery, surpassing the capabilities of current bulk methods.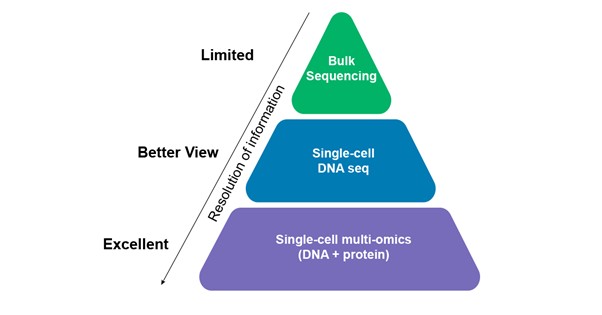 By identifying treatment resistance mechanisms and detecting residual disease levels during treatment, the platform allows for improved patient stratification and better outcomes in clinical trials.
Rhapsody HT Xpress System
On 3rd February 2023, Becton, Dickinson and Company (BD), a prominent global medical technology company, announced the development of a new instrument called the BD Rhapsody HT Xpress System. This system enables high-throughput studies in single-cell multi-omics analysis while preserving sample integrity. 
The technology has the potential to accelerate discoveries in various fields, such as immunology, genetic disease research, and cancer and chronic disease research.
The BD Rhapsody HT Xpress System offers scientists the ability to isolate, barcode, and analyze single cells at a significantly higher throughput compared to previous versions of BD single-cell analyzers.
It allows for the analysis of multiple samples and different cell types simultaneously, including stem cells and cancer cells, thereby providing researchers with more insights in less time. The system ensures no loss of samples and offers flexibility in studying various cell sizes and types. 
The BD Rhapsody HT Xpress System was showcased at the Advances in Genome Biology and Technology (AGBT) General Meeting, held in Hollywood, Florida, from 6-9th February 2023.
With the introduction of the BD Rhapsody HT Xpress System, along with other BD cell sorters and the existing portfolio of reagents, assays, and bioinformatics tools within the BD Rhapsody product line, BD aims to provide a comprehensive end-to-end solution for single-cell multi-omics analysis. 
Chromium Single-Cell Gene Expression Solution
On 6th February 2023, Ultima Genomics and 10x Genomics joined forces to integrate Ultima's advanced ultra-high throughput sequencing systems with 10x Genomics' Chromium Single Cell Gene Expression solutions. This collaboration, part of the 10x Compatible Partner Program, aims to offer researchers streamlined and cost-effective workflows for analyzing gene expression in single cells on a larger scale.
By combining Ultima's sequencing platform with 10x Genomics' single-cell technologies, researchers gain the ability to analyze samples more efficiently, reduce costs, and investigate larger and more intricate single-cell libraries. 
The validation of Chromium assays on Ultima sequencers represents a significant step toward making single-cell analysis more accessible and routine for researchers worldwide.
C1 Single-Cell Auto Prep System
C1 Single-Cell Auto Prep System is an automated system developed by Standard Bio Tools (previously known as Fluidigm), an American Analytical laboratory instrument manufacturing company. 
C1 Single-Cell Auto Prep System precisely isolates individual cells into separate reaction chambers using the exclusive Fluidigm integrated fluidic circuit (IFC). It enables the preparation of single-cell templates for various applications such as mRNA sequencing, DNA sequencing, epigenetics, or miRNA expression. 
By utilizing a single technology, C1 eliminates the variability introduced by human error and multi-platform approaches, allowing for accurate gene expression analysis. The system offers an optimized protocol, pre-formulated reagent kits, and disposable IFCs, ensuring a streamlined workflow with high productivity. Users can easily isolate and process individual cells, discovering differences in heterogeneous populations with single-cell accuracy. 
The system supports the automated collection of up to 800 individual cells' DNA or RNA content for sequencing or qPCR detection.
Conclusion
The projected growth of the single-cell multi-omics market to reach $7.72 billion by 2033 is driven by the emergence of advanced cell analysis platforms. 
With their ability to provide high-throughput and high-resolution data at the single-cell level, these platforms hold significant potential in various fields, including biomedical research and targeted therapeutics. 
Interested to know more about the growing technologies in your industry vertical? Get the latest market studies and insights from BIS Research. Connect with us at hello@bisresearch.com to learn and understand more.