Don't forget, you can follow the In Search SEO Podcast by subscribing on iTunes or by following the podcast on SoundCloud

! 
The In Search SEO Podcast Poll Question of the Week!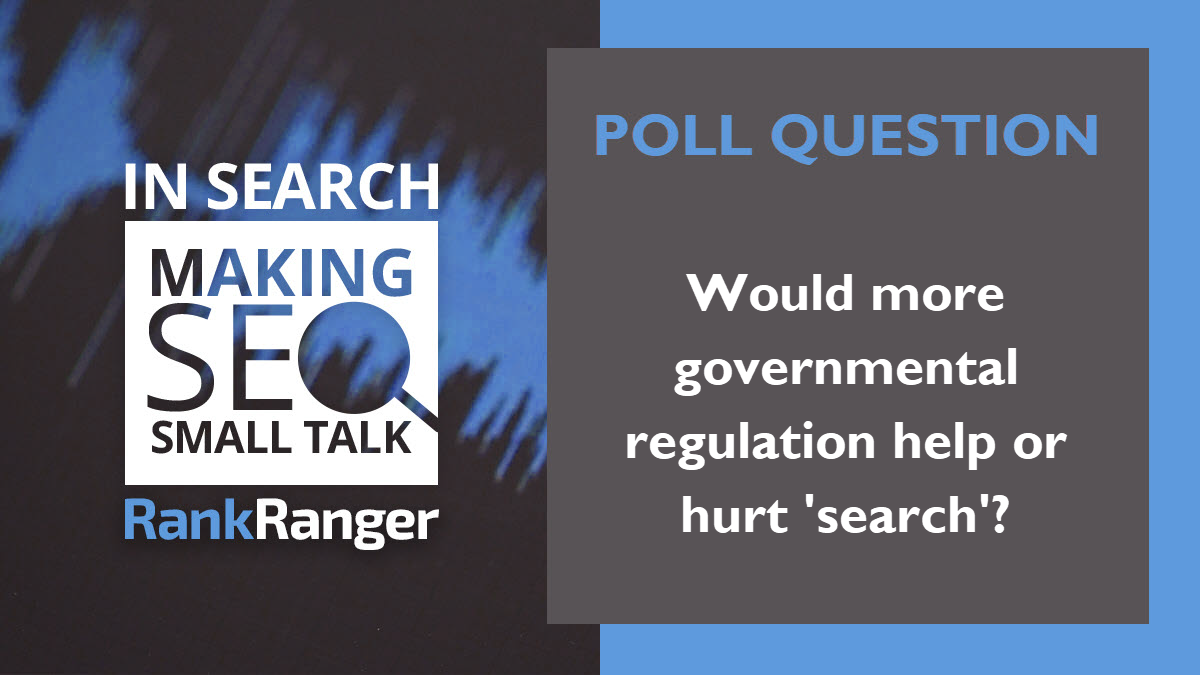 Let us know what you think about Google being subject to more regulation. Would more regulation benefit search? Would it hurt search? Let us know so that we can feature you on the next episode of In Search! 

Summary of Episode 08: The In Search SEO Podcast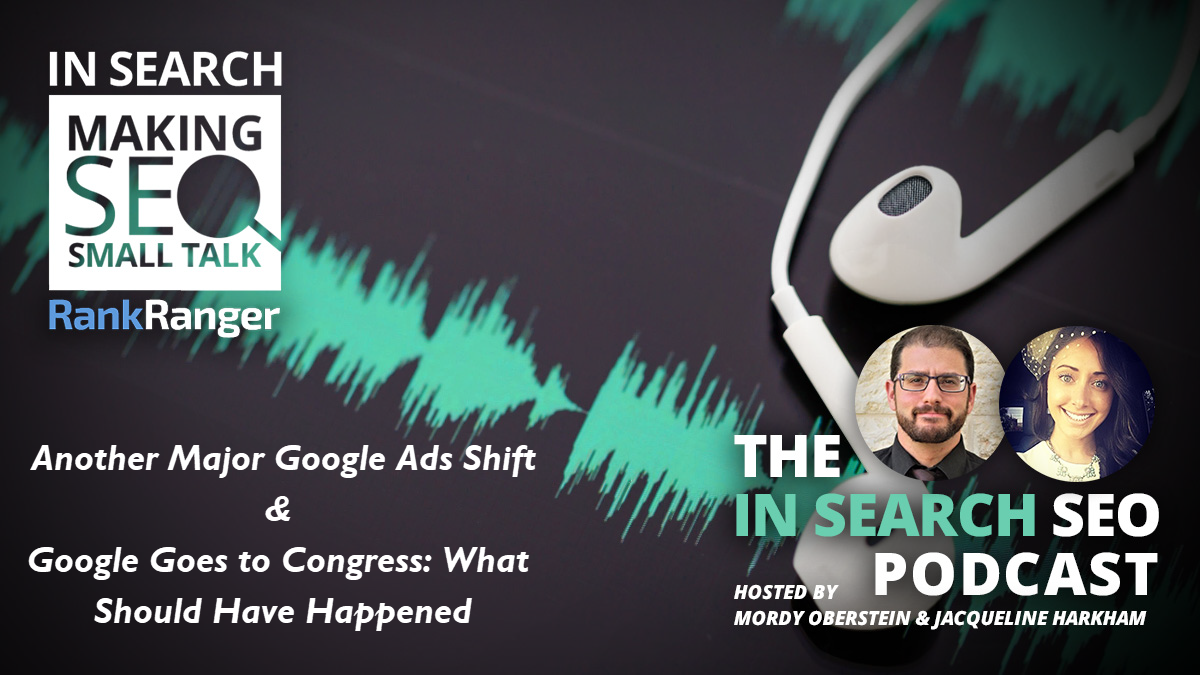 In Episode 08 of the In Search SEO Podcast our hosts Mordy Oberstein & Jacqueline Harkham explore: 
Big Google Ad and PLA swings (again)! What's going on? 

Google goes to Washington but did anything come of it? 

What happens when SEO theory becomes a reality for booking sites? 

Is blogging still worth it?!
Google Ads and PLAs Rebound in a Big Way but What's Going on 
In last week's episode of In
Search we spoke about Google Ads and PLAs undergoing a massive SERP drop-off. On December 11th Google Ads were subject to yet another massive data change. This time ads on the SERP spiked incredibly. At the time of this writing, Google Ads now show on roughly 65% of page one SERPs (US desktop). That's a 590% increase from their December 4th low and a 77% increase from where Google Ads trended before the drop-off. This pattern holds true on desktop and mobile as well as in markets around the globe. Google Ads are back and are far stronger than before! 
PLAs also saw a strong rebound, but not in the same way. As opposed to Google Ads, PLAs saw a slow and incremental return to normalcy. The shopping ads have returned to their previous display levels of 16% on
desktop in the US. Similar to Google Ads, this return to prior performance is true on both desktop and mobile and in most markets. Unlike Google Ads, however, PLAs (at the current time) have not surpassed the display level seen prior to the December 4th fall-off. 
In terms of what's behind this bizarre behavior, Mordy offered two options of various plausibility: 
The recent ad ups and downs were the result of a Google bug.

The only problem is, bugs are usually resolved very quickly, and you'd have to imagine one that impacts revenue would be solved even quicker. More, the fix would mean a quick and sudden return to normal levels. While this was the case with Google Ads, PLAs saw no sudden return, but rather a progressive recovery. 

Google was running a specific test that resulted in lower levels of ads.

The timing here, however, knocks this theory off pretty quickly as this is one of the most important shopping seasons of the year, if not the most important. 
Mordy pointed out that you could argue that the ad drop-off was related to Google testifying before Congress. This comes as the return of all things ad on the SERP began on December 11th, the same day Google sat before the Congress. While the timing does make this interesting, it does lean a bit too far into "conspiracy theory" territory. 
Did Anything Come of Google's Congressional Hearing? 
Our hosts expressed their general skepticism of these sorts of hearings and were not surprised that not much came from Google going to Washington in order to testify before Congress. What was a bit "interesting" was that the level of questioning was not rigorous at the technical
level. While not remarkable in and of itself, one might have expected otherwise following Facebook's trip to Congress. 
That is not to say there is no possibility of such hearings being productive. In fact, as Mordy mentioned, if Congress would have brought in experts from around the SEO industry there could have been substantial dialogue. 
One question our hosts thought the hearing naturally leads to is if Google should be regulated more than it currently is. To be clear, Mordy and Jacqueline were asking this not from a political perspective, but purely from being part of the SEO industry. That is, it would be interesting to hear
a dialogue on the question less from a political perspective and more from one considering what is best for search. 
 An SEO Reality for Booking Sites 
It's always interesting to see something so often discussed in the SEO
industry translate into reality. In this case, we as an industry have increasingly talked about the notion that Google's SERP features present real traffic and revenue obstacles for many sites. This, as a theory or as a more abstract conversation is certainly the truth. Still, it's not the same as a site per se coming out and delivering the same message. 
To this extent, Expedia CEO Mark Okerstrom went on record saying that Google's SERP features are one of its primary competitors. Such a notable figure making this statement takes the conversation and adds a lot more weight to what it means to have a more "energetic" SERP feature environment. 
To this extent, our hosts went on to discuss what they feel will be the next "big" conversation… ranking above the fold. That is, as Google continues to advance its current SERP feature strategy, ranking in view of the user's first look at a SERP is going to be paramount. Of course, tracking above the fold ranking is also of major importance. 
SEO News & Analysis
AMP Search Console Reporting Becomes More Generalized: Google announced that it will be showing more generalized issue types in Search Console as regards AMP. What's interesting is that generally the more specific the data the better. Though, in this instance, Google seems to feel that a bit of generalization will help keep things simpler.  
Google Expands 'For You' Map Tab: The Google Maps For You tab is spreading to 40 new markets. The 'For You' tab is similar to the Discovery Feed but with a strictly local focus. The more recent Google "Discover-
esque" expansions almost feel like the search engine's way of tinkering with a more "social" foothold. What's fascinating about this notion is that unlike traditional social media these elements have users engaging with a more interactive Google, not people per se. 
Google+ Getting an Early Shutdown: Due to additional security concerns, Google will be shuttering Google+ in April rather than in August as had been originally planned. 
Related Search Goes Featured Snippet: Google has released expandable Related Search results. This means that each result on mobile can be expanded to show what is all but a Featured Snippet. The question is, do users even engage with the feature enough for this to be significant? One study Mordy recalls indicated that users are not apt to use the related search results. This could be why along with the expandable feature Google has added image thumbnails to mobile Related Search results, thereby making the feature more noticeable. 


Google Now Offers Conversion Bidding: For display ads, Google is now offering conversion bidding (as opposed to pay-per-click bidding). In this instance, advertisers would set a cost per acquisition setting a limit on how much you'd be willing to pay per conversion. 
Is Blogging Still Worth All that Effort? 
In his post Can You Still Blog Your Way to Visibility & Credibility? Sparktoro's Rand Fishkin analyzes the current state of blog posting. Through a series of data and trends, Rand points out that the viability of blog success is far more difficult than it used to be. One of the article's true payoffs comes in its asking if blogging is still worth it?! Here, the author lists a few criteria with which to determine if "blogging is for you" as well as some other avenues content creators may wish to pursue. 
One point our hosts wanted bloggers to consider is the value a blog can bring vis-a-vis authority. Beyond any metrics such as clicks, traffic, and impressions, a blog offers the optic of being authoritative if done correctly. More, creating blog content can be a good segue into engaging with industry influencers. When appropriate, having blog content gives you the material with which to converse with an influencer while throwing in a link to your content at the same time (as our hosts cautioned, be genuine when doing so). 
The In Search Podcast's Fun SEO Send-off
Due to her critique of Mordy's absurd questions, this is Jacqueline's first attempt at the Fun SEO Send-Off Question! 
This week Jacqueline asked: 
If Google were an actor or actress who would it be? 
Mordy had to say Jack Nickloson who's brilliantly talented yet just not right at times. Kind of like Google is itself brilliant, but not always right! 
Jacqueline sees Google as being Chuck Norris… because he wins at everything he does (at least in the movies)!