While we may be in the new year, we're not done with 2017 just yet. Google closed the year off on the SERP with a heavy hitting algorithm update and some of the most interesting SERP feature tests and upgrades that we've seen all year. Whether it was images in AdWords ads or more content inside Featured Snippets, Google capped the year off in a way that was anything but boring. 
One Last Google Update in 2017
Machine learning never takes a vacation, so despite being on the cusp of the holidays, Google rolled-out a significant algorithm update. On December 20th, the Rank Risk Index caught a one day spike in rank fluctuations on desktop (two days on mobile). Reaching a fluctuation level of 71/100, Google's end-of-year update was not a mere blip on the radar. 

Rank fluctuations increased on December 20th per the Rank Risk Index 
This comes after some speculation that there was an update that rolled-out circa December 14th. While our data does show an increase in rank fluctuations around that time, they were not nearly as significant as the changes in rank we saw on the 20th. 

Featured Snippets and Knowledge Panel Get a Content Update 
In early December, Google announced that related searches and more images would be coming to Featured Snippets. Google has stated that the new additions are meant to help users discover more about a topic. What's interesting is, I have not come across the new layout as of yet. 
Like Featured Snippets, Google also added the related search carousel to the Knowledge Panel. Also, Google is now showing a carousel of related topics that at times appears above the Knowledge Panel. Both of these features now commonly appear within mobile Knowledge Panels. 

A People Also Search For carousel within a mobile Knowledge Panel  
Google is constantly making changes to its SERP features, particularly the Knowledge Panel. So it is a bit interesting that the search giant made an official announcement about these specific changes. 

  
SERP Features Test & Changes – December 2017 
As I mentioned earlier, Google ended off the year with some real zingers. Particularly, there were some fascinating tests to both the SERP and SERP features that could have a deep impact should they become permanent fixtures.  
The Two-Result SERP 
Early in the month there were reports of SERPs showing with almost no organic results. These SERPs were dominated by numerous SERP features that left room for just two organic results. 

A mobile SERP showing just two organic results (image source seroundtable.com)
Additionally, the "next page" button did not show on this SERP. Instead, Google simply displayed a button that read "See more results." Tapping here caused dynamically loading search results to be added to the present "page." I've actually seen this dynamically loading SERP before. It would be quite interesting if Google eventually went with the format. Seeing this along with limited organic results in a way makes sense, as in this case there are no pages, making it easier for Google to avoid the critique of having limited results on Page One.  
The Best Answer Carousel 
Also early in the month, Google tested a new SERP feature, Best Answers (as dubbed by the industry). Showing at times when a query brought up results from forum sites, Google was running a carousel of answers within the organic results. The carousel would show multiple answers from the forum in order of those answers with the most votes. The way I think of it is almost like a carousel of Featured Snippets with content made up of forum answers. It would be quite interesting if Google permanently brought the feature to the SERP. If so, I would venture Google may use answers from the carousel when responding to voice search queries, as doing so would eliminate some of the inaccuracies that come along with Featured Snippets.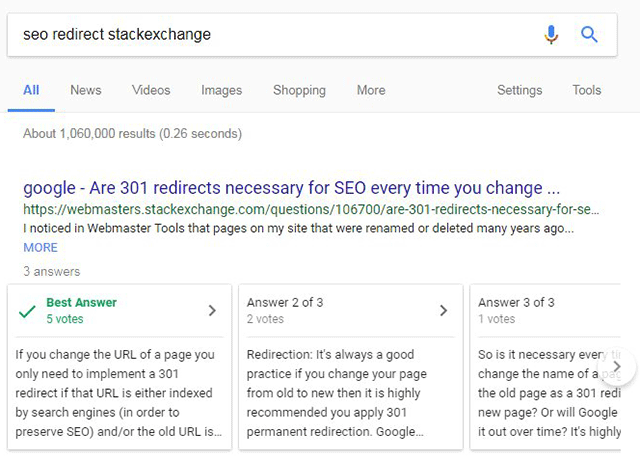 The Best Answer carousel that appeared within the organic results for forum sites during a recent test (image source: seroundtable.com)  
Organic Results Come to the Local Panel 
Google is now showing a limited set of organic results within the Local Knowledge Panel. Generally showing 3 – 4 results, this is an interesting addition to the Knowledge Panel. That is, I'm not sure of the upshot here. The sites shown are generally those of the entity within the panel, map sites, or review sites such as Yelp. However, the panel already includes a link to the entity's site, has a button for directions, and includes all sorts of ratings and reviews. It just makes me think this might be less about functionality and more about optics.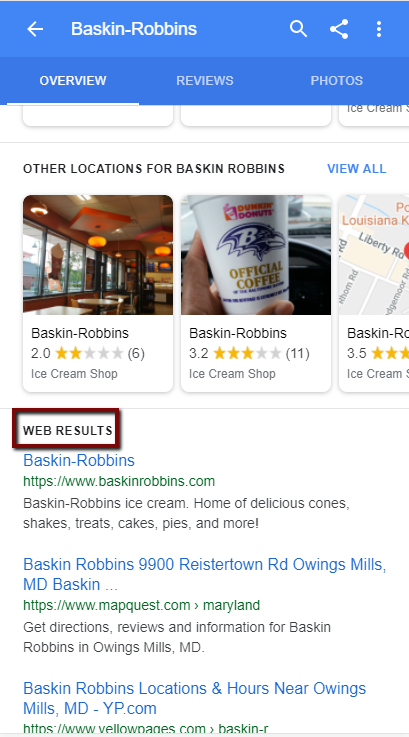 Organic results inside the mobile Local Panel 
Notable Moments in the Knowledge Panel 
Creating a timeline of sorts, Google tested a carousel showing chronologically ordered snippets of information within the Knowledge Panel. The information on each card in the carousel was pulled from different websites, with a link to the site itself. This appears to have been a limited test as I no longer see the element appearing within the panel.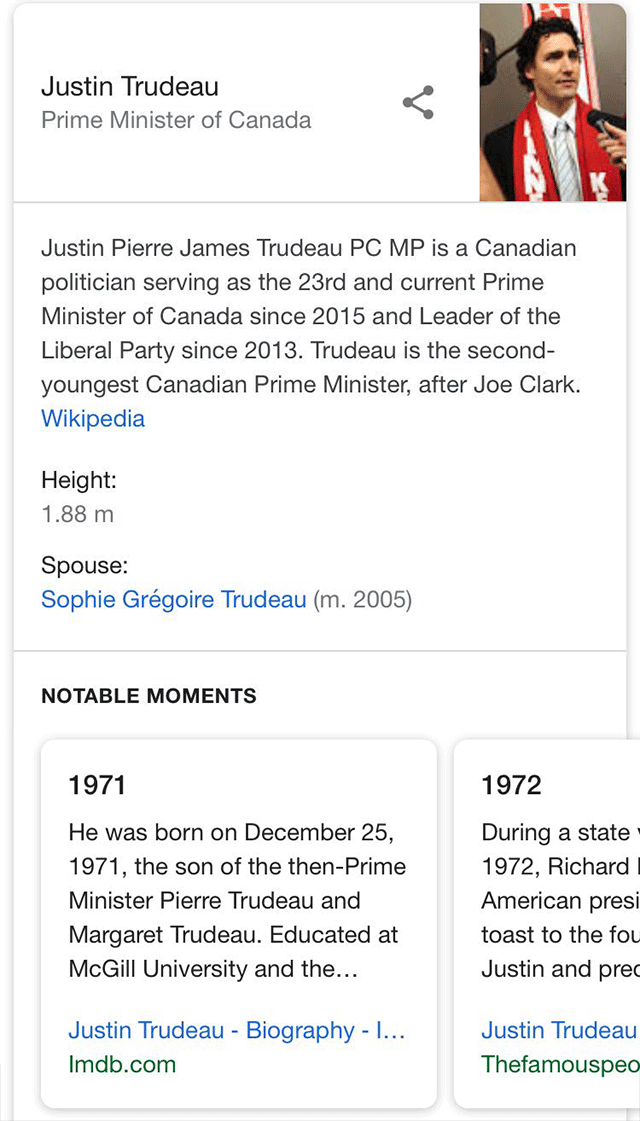 Notable cards create a timeline in this test to the Knowledge Panel (image source: seroundtable.com) 
The Q&A Feature Makes Its Way to Desktop Knowledge Panels
Appearing within mobile Knowledge Panels since August, Google has pushed the Q&A feature to desktop. The feature is a great content opportunity as it allows site owners to ask and answer their own questions with the content showing right on the SERP. In this way, the Q&A feature is an FAQ of sorts, though users can also ask and answer questions as well. 

 
Google Upgrades Flight and Hotel SERP Features…. Again
Back in August, Google's Flight Box and hotel Knowledge Panels received a highly potent upgrade that brought searching for flights and hotels to a whole new level of ease. In December, these features underwent another round of upgrades. Specifically, the Flight Box now offers tips designed to save you money. The Tips Box was added back in August, though back then it did not present users with much in the way of information. 
Hotel Local Packs also saw an update with Google giving you the ability to track hotel prices via automated alerts. That is, Google will actually email you with price changes to hotels (this feature is set to roll-out sometime in 2018). On top of that, Google is also providing notification when/if hotels in a given area may be busier than usual, and therefore more expensive, right in the Local Finder. This comes as Google also fully rolled-out its hotel price slider within the Local Pack.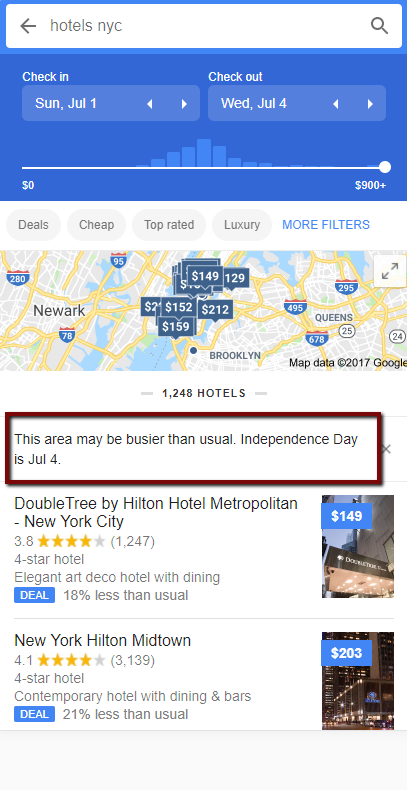 A notification inside the Local Finder tells users if hotels will be busier and therefore more expensive for a selected date range
No matter how you look at it, Google is certainly approaching its flight and hotel SERP feature with new zeal. As I've mentioned previously, such upgrades may be part of a new revenue strategy that comes on the heels of the Chrome ad blocker. 
Image in Ads Test
On December 18th, Sergey Alakov found Google running an image within an AdWords ad. What's interesting (other than the obvious), is that the image seems to be generic (as the site in question has no such image). More than that, the ad content seems to have been dynamically generated by Google. Really the whole thing is a bit bizarre. At the same time, I would not discount the notion that Google will push images to its ads, as doing so makes them appear that much more organic.
@GinnyMarvin @rustybrick landing page image pulled into an ad. New? pic.twitter.com/GkQBliAxEl

— Sergey Alakov (@sergey_alakov) December 16, 2017
Ending the Year in a Big Way 
Google really did end the year with a bang when you think about it. Just imagine if some of the tests we saw actually get rolled out. Both images in ads and a best answer carousel, have the potential to seriously shake up the SERP. In the case of the latter, showing a carousel of forum answers could have a real impact on the clicks those sites would have otherwise earned. Also, it was not altogether surprising to see Google add even more elements to its flight and hotel SERP features. That being said, is Google done? Will we see another round of flight and hotel upgrades in 2018? Are big changes on the horizon? Let me know what you think!