Ah, a new year in the world of SEO is upon us. Breathe in that new and refreshing air. Can you smell it? The air of change is upon us. Change to rank on the SERP as one long, and I mean seriously long, Google update helped kicked the new year off. Not enough change for you? Not to worry, Google also released a slew of SERP feature tests that dominated the first month of the year. My, my! Aren't we off to a fast start?! Welcome to a new year, welcome to the SERP news for January 2018!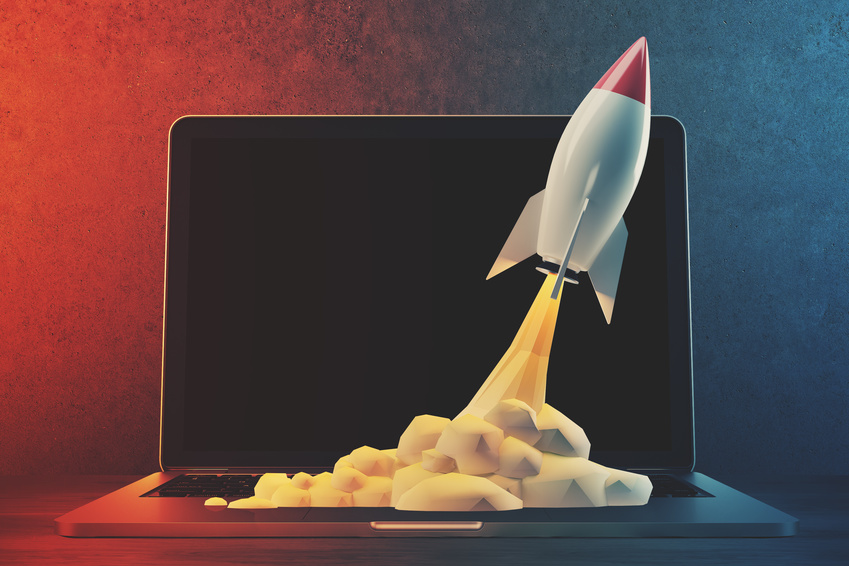 The First Google Algorithm Update of 2018 – Long and Serious 
If I had to describe the first Google update of the new year I would say it was long, really long, astoundingly long… you get my point. In fact, I've never seen a longer "rollout" before. Our Rank Risk Index first picked up increased fluctuations way back on January the 10th and didn't see normal fluctuations again until the 30th. That's 20 days folks!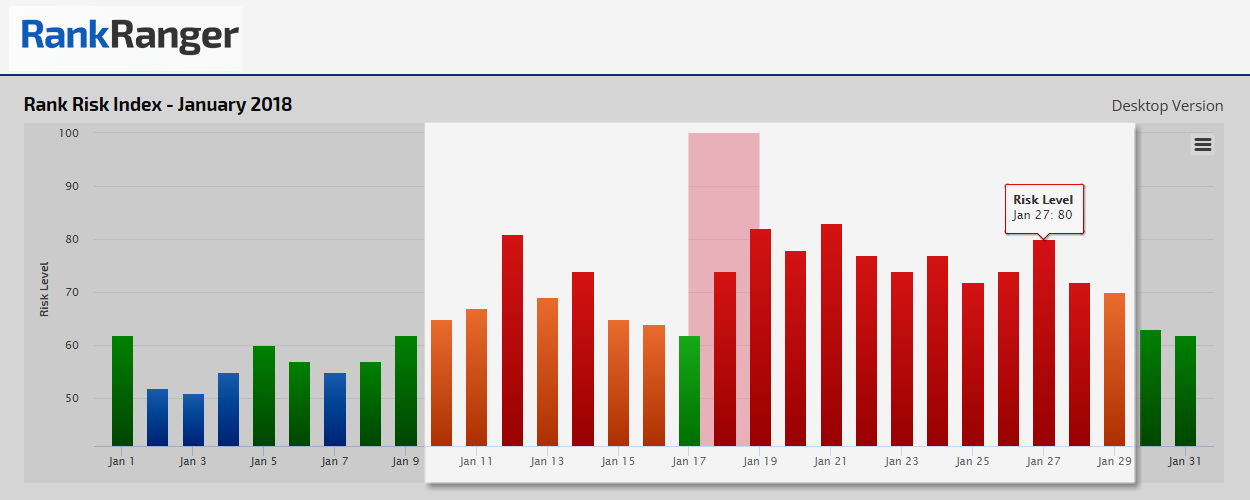 The Rank Risk index showing a prolonged Google Update roll-out on desktop


The rank fluctuations haven't been minor either.
On
desktop, we've seen fluctuations reach a level of 80 (out of 100) or above four times since January 10th. In a way, we're in uncharted territory here. To my knowledge, we've never seen anything as prolonged as this. At the same time, after an admittingly very quick survey, there does not seem to be a "site pattern" manifesting itself. That is, we haven't seen that the update is mainly (or consistently) impacting sites that possess certain unique qualities.    
The First Google Algorithm Update Announcement of 2018 – Mobile Page Speed to be Ranking Factor 
Like its first update rollout of 2018, Google's first update announcement was equally, if not more so, of a grandiose nature. On January 17th, the search engine giant announced that mobile page speed as a ranking factor was coming to a mobile SERP near you… as of July (2018). Up until now, page speed was a ranking factor limited to desktop, as ironic as that might sound. All of that is set to change as mobile pages will have to cater to users and their need for speed if they want to rank in any significant way.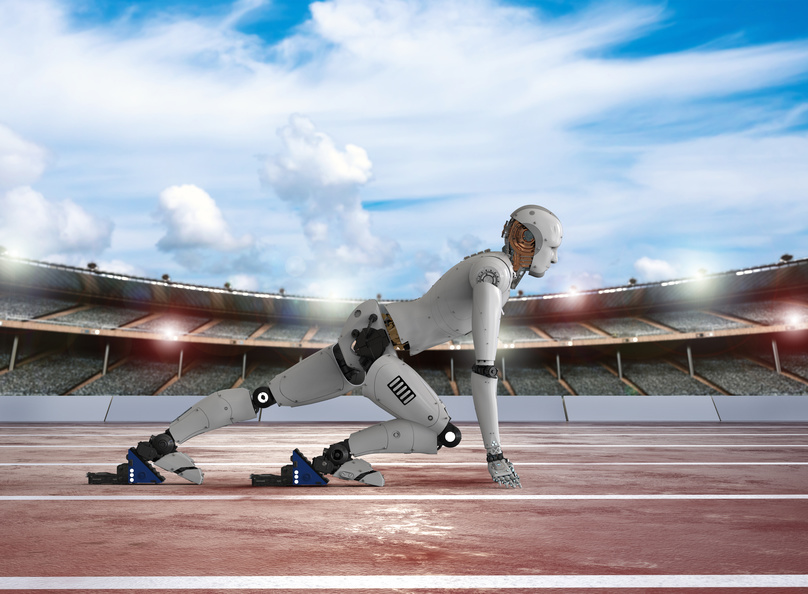 Now, it's not as drastic as it may initially sound (at least that's what Google is officially saying). According to Google, the upcoming update is meant to target the slowest of the slow and should "only affect a small percentage of queries." Or, in simple terms, this is not Mobilegeddon 2.0. At the same time, there was some initial concern about how AMP pages would interact with the upcoming "Speed Update" (as Google is calling it). Specifically, there was a bit of confusion as to which URL Google was going to measure for quickness, the AMP URL or the canonical, and of course slower, URL. To the satisfaction of all who have gone AMP, Google did clarify that mobile page speed would be determined according to the speed of the AMP URL.    


January's SERP and Feature Changes, Tests, and What Have Yous 
It's been a big start to the year on the Google SERP from all accounts. Aside from some pretty major algorithm news, Google ran some really interesting tests that were quite unique compared to what we typically see month in and month out. 
More Changes to Hotel SERP Features on Mobile
No, you're not dreaming, nor are you reading a previous edition of the SERP news. That's right, yet again Google has run a test that presented significant changes to features like the Local Finder and Knowledge Panel for hotel results on mobile. In this test, the Local Finder, when showing hotel results on mobile, displayed with larger images and appropriately enlarged price labels over said images (as well as a guest rating sliding filter, among other changes). 
The test also gave mobile Knowledge Panels for hotels a whole host of new abilities and layout alterations. Most notably, the test presented a carousel entitled In This Area that showed options on anything from local attractions to nearby airports (transportation options included).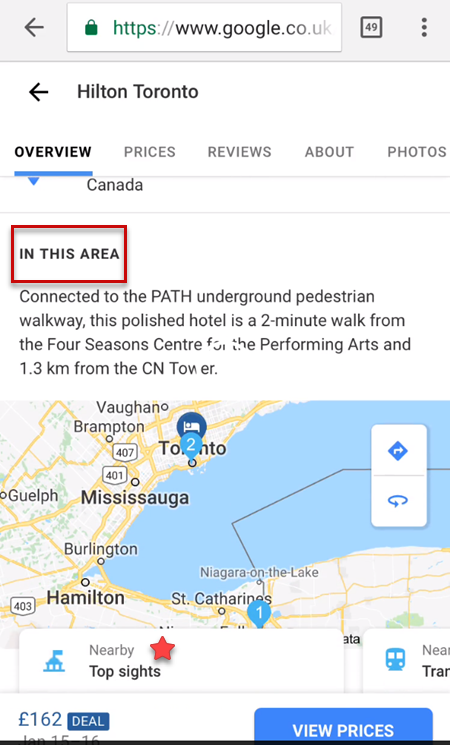 Google tests the In This Area carousel inside mobile hotel Knowledge Panels (Image source: Sergey
Alakov, alakov.com)



The test was spotted by Sergey
Alakov who was kind enough to take some videos of this hotel SERP feature test.    


Other January Google SERP Feature Test Roundup 
Shopping, news, and People Also Search For carousels all saw tests in January, as did reviews. So let's just get right to it then. 
Shopping Carousel Promotion: Google Express (which touts the ability to shop multiple stores at once) got itself a nice '
ol promotion that accompanied mobile shopping carousels. During the test, a banner would appear over shopping ad carousels that promoted the service's quick checkout and (at times) free shipping.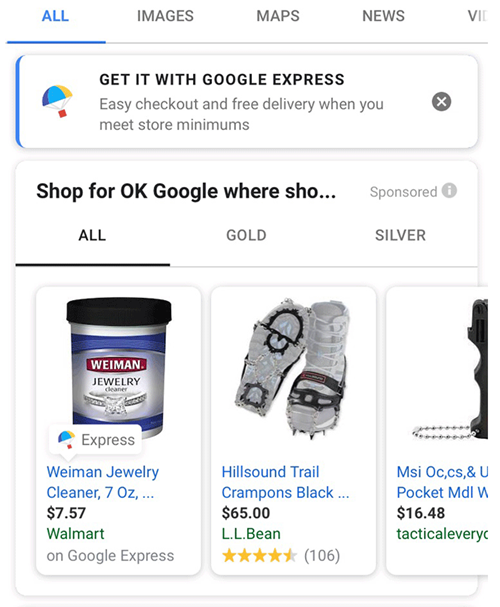 January's Google Express promotion test (Image source: seroundtable.com) 
'Latest From the Web' News Carousel: Here's an odd one, the Latest From the Web carousel on mobile. Why is this odd? Well for starters, this news carousel appeared on top of the News Box resulting in a double news carousel on the SERP. More than that, when I found this carousel, almost all of the cards within the carousel showed links to radio stations! In other words, what I saw was a carousel almost entirely dedicated to news from radio station websites! Now, what is the unique advantage of news from radio station sites? Your guess is as good as mine.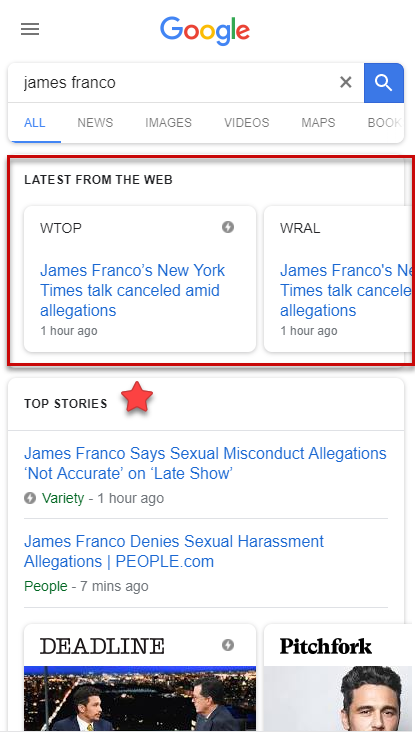 The Latest From The Web carousel test showing news results from radio station websites 
The People Also Search For Sub-Carousel: Essentially, what you have in this ongoing test is a set of tabs showing topics related to your query (and the displaying People Also Search For Carousel). When tapped, these tabs expand to show what is another People Also Search For carousel related to the heading of that specific tab.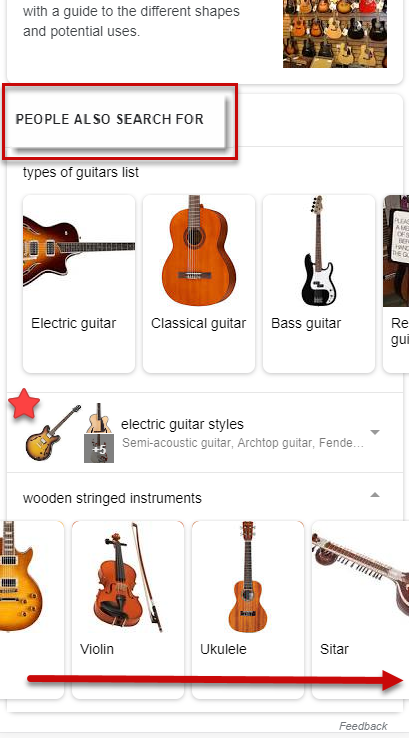 The People Also Search For Carousel showing sub-carousel options  
Views for Reviews: In an effort to help users determine which, of what can be an onslaught of reviews, is the most helpful, Google tested showing the number of views or impressions a review has accumulated. It's an interesting little tidbit of information that I think users will make use of should it become a permanent fixture.  
Notable Changes to the SERP
Tests aside, Google did make some enduring changes to the SERP. Though, with such heavy testing and rank fluctuations, it seems that this is one area that took a bit of a back-burner in January. 
Dictionary Box Tips: Google's Dictionary Box is a mountain of linguistic information that offers users anything from word origins to audio pronunciations. Now, this digital lexicon offers up Tip that appears at the bottom of the box (before it's expanded). Currently, the Tip section presents users with words that perhaps sound similar and may be confused with the word shown in the box. I would venture to say that other categories of tips are likely to make their way into the Dictionary Box (they already may be there, I just have not seen anything but the Similar-sounding words category appear in the Tip section). 


 Google's Dictionary Box showing
with the new Tip feature helping to disambiguate similar-sounding words
SERP Showing AMP Tool and Publishers Get Their Own AMP URL: OK, so this one is not 100% related to the SERP per se, but let's go with it anyway. Towards the beginning of January, Google updated their AMP tester. One of these updates includes the ability to see how AMP pages will display on the Google SERP (which is what makes this news tidbit, SERP
News
worthy). Meaning, if your AMP page content is a news article you can see how it might appear in the Top Stories carousel or if not, you can see how it may look as a plain '
ol organic result, etc.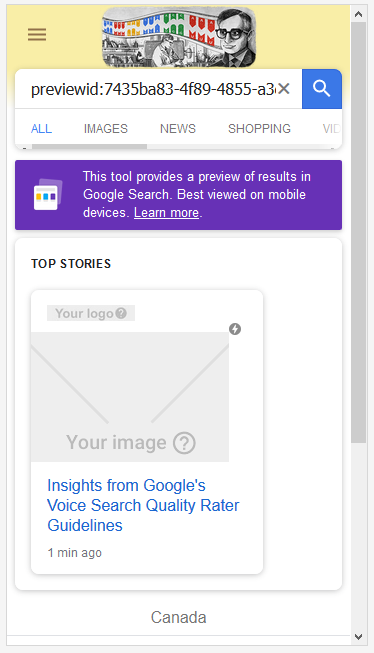 The new AMP tester showing how an AMP page would appear within the mobile Top Stories carousel (Image source: thesempost.com)
Here's another one that's  also not 100% directly related to the SERP. News articles that utilize the AMP format are a significant part of the SERP universe. Whose URL shows when a user clicks on an AMP page from the mobile SERP has been a sore spot of sorts. Traditionally, Google, who caches such pages, showed their own URL. Eventually, Google showed the publisher's URL above the page's title in a tidy little box. While better than it was, this workaround didn't overwhelm publishers with glee. Thus, in January, the AMP project announced that AMP pages will now show with the publisher's own URL, not Google's. 
A SERP Sign of the Times? 
Well, the year on the Google SERP certainly kicked off with a bang. January had everything you could want out of a SERP, a mysterious algorithm roll-out, a slew of peculiar SERP feature tests, etc. So, is this a one-time aberration, or a sign of the times of what's to come? Will 2018 be the most "transitional" year yet? Well, I wouldn't place my bets on SERP tranquility. In fact, with 2017 ending the way it did, i.e., with
a fourth quarter that saw changes such as the ccTLD update, 2018 could be an unusually "busy" year on the Google SERP. 
What are your SERP predictions for 2018? Reach out! I'd love to hear from you.